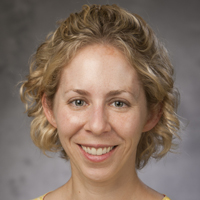 Katie
Latanich
Senior Policy Associate
Katie Latanich is co-director of the Fisheries Leadership & Sustainability Forum at Duke University's Nicholas Institute for Environmental Policy Solutions. She has worked with the Fisheries Forum staff since 2009, and oversees the strategic and operational aspects of the organization, as well as the development of research projects, forums and collaborations in support of the federal fisheries management process. 
Katie's recent work has focused on recreational management objectives, climate change and governance, and the integration of habitat considerations into council decision-making. She also contributed to the development of the 2013 Managing Our Nation's Fisheries three conference sessions on ecosystem-based management. Prior to joining the Fisheries Forum, Katie worked with the North Carolina Division of Marine Fisheries as a port sampler.
Katie earned her bachelor's degree in environmental science and policy and political science from Duke University, and a master's degree in coastal environmental policy from Duke University's Nicholas School of the Environment.