August 21, 2013
Doyle Appointed Nicholas Institute Water Policy Program Director
Nicholas Institute for Environmental Policy Solutions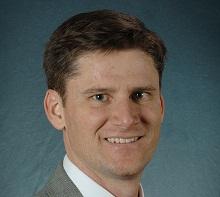 FOR IMMEDIATE RELEASE: Wednesday, August 21, 2013
CONTACT: Erin McKenzie
(919) 613-3652
erin.mckenzie@duke.edu
DURHAM, N.C.-- Martin Doyle has been appointed director of the Water Policy Program at Duke University's Nicholas Institute for Environmental Policy Solutions.
Doyle will divide his time equally between this new role and his current position as professor of river science and policy at Duke's Nicholas School of the Environment.
"We are thrilled to have Martin join us," said Tim Profeta, director of the Nicholas Institute. "He brings a long track record of scholarly research, teaching and mentorship of students. He has the respect of his peers, credibility with a diverse array of water policymakers and a unique understanding of the range of existing water policy options. The Nicholas Institute's effectiveness in the water arena will be greatly increased with his addition to our staff."
The Nicholas Institute's Water Policy Program historically has focused on global water policy, making its largest contributions to water resource management decisions in Southeast Asia and in the water, sanitation and hygiene (WASH) sector. Doyle will increase the Water Policy Program's collaboration with other Nicholas Institute programs and Duke faculty by refocusing it on domestic issues such as water management for ecological considerations and the implications of shale gas extraction on water resources.
"Demands on freshwater resources are growing, climate is changing, and budgets are shrinking," said Doyle. "Along with this, traditional government roles and responsibilities are shifting to states and local governments as well as the private sector. This means demand to build local-level water policy expertise, and to provide rapid information and analysis into this new kaleidoscope of water management, is high. The Water Policy Program's shift in focus is intended to help address these emerging issues."
Doyle's research is at the interface of science, economics and policy, having written extensively on domestic water-related subjects ranging from stream ecosystems to hydropower generation. This work has resulted in several awards and fellowships from institutions including the U.S. Army Corps of Engineers, American Water Resources Association, National Science Foundation and Stanford University.
He holds a Ph.D. in earth science from Purdue University, a master's degree in environmental engineering from the University of Mississippi and a bachelor's degree in both physics and mathematics from Harding University.
###