December 6, 2017
Phillips Named to Lead New Energy Access Project
Nicholas Institute for Environmental Policy Solutions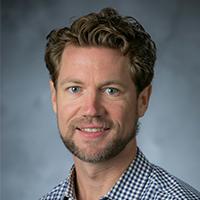 DURHAM, N.C. -- Jonathan Phillips, formerly the senior advisor to the president and CEO of the Overseas Private Investment Corporation, has been named director of the Energy Access Project at Duke University. This new research and policy effort aims to address the challenges around increasing access to modern energy solutions to underserved populations around the world.
"Jonathan brings a deep well of knowledge regarding energy development in emerging markets, particularly private ventures that are bringing electricity to populations at scale and the policy efforts that enable those ventures," said Duke University's Nicholas Institute for Environmental Policy Solutions Director Tim Profeta. "He will ensure that the knowledge created at Duke is actionable toward the mission of bringing sustainable energy access to all people."
Worldwide, 1.1 billion people live without basic electricity. Another 1 billion have limited access because of unreliable grids, and far more lack access to clean fuels and technologies for cooking. These populations are largely concentrated in sub-Saharan Africa and India. The lack of modern energy sources has far-reaching implications for global health, climate change, and economic opportunity.
As Energy Access Project director at the Nicholas Institute, Phillips will focus on developing new and collaborative ways to meet the energy needs of some of the world's most disadvantaged communities.
"Innovative business models, financing arrangements, and policy reforms are coming together in a way that has the potential to eliminate global energy poverty in the next decade," said Phillips. "Duke has much to contribute to this fight. I'm thrilled to be joining this engaged community to help find ways to leverage the vast expertise and diverse resources across campus to catalyze change on one of the world's most pressing development challenges."
At the Overseas Private Investment Corporation, Phillips helped manage the organization's climate finance capabilities, including the corporation's $2.1 billion in on- and off-grid energy transactions under the U.S. Government-led Power Africa initiative. He also helped lead the private sector team within the Power Africa Coordinator's Office at the U.S. Agency for International Development, facilitating key transactions and helping build the initiative into one of the largest public-private partnerships in the world with more than $50 billion in private sector investment commitments.
Phillips has held a variety of roles in Congress that led to the development of many notable legislative efforts. As professional staff on the House Select Committee on Energy Independence and Global Warming, he was a lead author of the Waxman-Markey climate bill that passed the House in 2009. He served on the House Natural Resources Committee and was later senior policy advisor to Senator Ed Markey of Massachusetts.
Phillips joins Subhrendu Pattanayak, a professor in Duke's Sanford School of Public Policy, who serves as faculty director of the Energy Access Project. Pattanayak leads educational initiatives, including the creation of courses that deepen understanding and spur analysis of critical problems. Pattanayak is also working to build the project's research network.
Phillips is in charge of the project's applied work and engagement, including mobilizing student and faculty with expertise in fields such as data analytics, energy markets and policy, entrepreneurism and finance, and technology diffusion and use. The project aims to connect these resources with energy access practitioners and policymakers to develop real- world solutions to energy access challenges in areas where they are needed most.
The project was established by a $1.5 million gift from Jim Rogers, former Duke Energy CEO and chairman of the board, and his wife, M.A. Rogers. The Bass Connections Challenge at Duke University added $750,000 in matching funds for a total of $2.25 million to support the project's goal of bringing sustainable energy to populations in need, particularly those in developing nations.
To learn more about the project, visit nicholasinstitute.duke.edu/energyaccess.
###
Members of the media interested in speaking with Jonathan should contact Erin McKenzie, erin.mckenzie@duke.edu, 919.613.3652.