February 25, 2015
Q&A with Linwood Pendleton: Co-Author of Study on Economic Impacts of Ocean Acidification
Nicholas Institute for Environmental Policy Solutions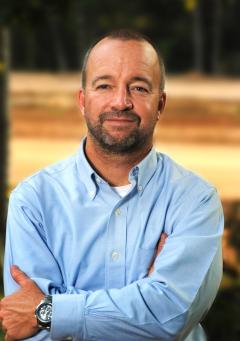 Ocean acidification is a global, long-term problem whose ultimate solution requires carbon dioxide reduction at a scope and scale that will take decades to accomplish successfully. A new perspective published in Nature Climate Change, and co-authored by the Nicholas Institute for Environmental Policy Solution's Linwood Pendleton offers the first nationwide look at the vulnerability of our country's $1 billion shellfish industry to the problem of our oceans becoming more acidic due to the absorption of increasing amounts of carbon dioxide from the atmosphere.
In your own words, what is unique about the research on ocean acidification published this week in the journal Nature Climate Change?
This is the first time a vulnerability approach, one that links environmental hazards with human outcomes, has been applied at a local scale, but for an entire country. The research also is unique in that it brings together a lot of information in a single, yet transparent analysis. The reader can quickly see the different causes of ocean acidification in different parts of the country, the different way local communities are economically dependent on shellfish resources that are likely to be impacted, and the resources available to deal with these issues.
What areas will be the hardest hit by ocean acidification, according to your research?
We find that nearly two thirds of the country will be hit hard, but by different sources of ocean acificification. Some areas are most impacted by CO2 driven ocean acidification, some by upwellings, and some by the increased acidification caused by freshwater run-off. Previously, our focus was on the Pacific Northwest, but this study shows that the Gulf of Mexico, the Chesapeake Bay, and New England also will be impacted.
Does your research propose any ways for these areas to deal with this?
Freshwater from rivers and streams brings nutrients and carbon to estuaries and this contributes to ocean acidification. Our research shows where better fresh water management could reduce the impacts of ocean acidification. We also show where more science, data, and monitoring is needed to understand the potential impacts of ocean acidification and to give shellfisheries and aquaculturists the scientific resources they need to adjust to changing ocean conditions.
Our study also identifies where social and economic conditions could be changed to improve the ability of coastal communities to adapt to ocean acidification. For instance, the Gulf of Mexico fishing industry currently is dominated by one species—oysters. A more diverse shellfish industry would better weather ocean acidification impacts. Similarly, places like Downeast Maine are vulnerable because their are few non-fishing employment opportunities for shellfish harvesters.
###
To read this study, visit http://www.nature.com/nclimate/journal/v5/n3/full/nclimate2508.html. Linwood Pendleton is available for comment by contacting Erin McKenzie, erin.mckenzie@duke.edu or 919.613.3652.