Nicholas Institute for Environmental Policy Solutions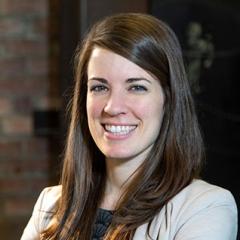 Allie Garrett
Policy Associate, Climate & Energy
Allie Garrett is a policy associate for the Climate and Energy Program at the Nicholas Institute for Environmental Policy Solutions. In this role, Allie manages the Southeast Energy Insecurity Stakeholder Initiative and the South Carolina Electric Vehicle Stakeholder Initiative.

Before joining the Nicholas Institute, Allie was a Program Coordinator at Energy Foundation where she led project management for the Southeast region. Prior to that, Allie served as an Associate Program Officer at the Z. Smith Reynolds Foundation where she managed the Fostering a Healthy and Sustainable Environment and Strengthening Democracy grant portfolios. She holds a bachelor's degree in sustainable development from Appalachian State University.
Allie recommends:
Dare to Lead with Brené Brown, a podcast series with a "mix of solo episodes and conversations with change-catalysts, culture-shifters, and as many troublemakers as possible." Allie particularly recommends Armored versus Daring Leadership Part One and Two.