In October 2017, the Bridge Collaborative welcomed over 150 guests from around the world to our global launch event in London. For two days, we gathered together with cross-sector experts, champions and stakeholders for inspiring dialogue on the value and power of collaboration to solve big challenges across health, development and the environment. We also selected our inaugural cohort of 'Bridge Spark Champions' and released two foundational reports: the Practitioner's Guide on cross-sector action planning and evidence evaluation and a policy brief entitled Call to Action for Health, Environment and Development Leaders.
What We Learned
After a whirlwind of interactive sessions, engaging workshops and thought-provoking speakers and panels, we walked away from the launch feeling motivated and humbled. Now, we're taking a moment to step back and reflect on some of our key takeaways. Here's what we learned:
1. IT'S TIME TO RE-THINK THE MODEL.
In the face of such daunting and complex global challenges as climate change, malnutrition, poverty and pollution, it's time to take a hard look at our past and current approaches to addressing them. Business as usual will not get us where we want to go. There's a lot that we can learn from start-up approaches that harness innovation and creativity to drive impact. The keynote speech from Ann Mei Chang, Executive Director of Lean Impact, drove this point home and set the tone for the days to follow: "Innovation is our path, impact is our destination."
2. COLLABORATION IS CRUCIAL—AND NOT ALWAYS EASY.
As Mark Tercek, President and CEO of The Nature Conservancy, said so crisply during his opening remarks, "No one organization, country, or sector can solve the world's largest problems. We need collaboration." This theme is one of the central reasons why we founded the Bridge Collaborative, and it was echoed consistently throughout the event by speakers, panelists and participants alike. To truly move the needle on the big, interconnected global challenges we face today, we can't act alone. But to drive collaboration, we need robust, rigorous data about what works—and what doesn't—across sectors. Our Practitioner's Guide is a first step toward smart planning to strengthen and accelerate cross-sectoral action, but we still have a long way to go. As a new effort, the Bridge Collaborative joins the ranks of many other groups and initiatives working toward similar goals. Our attendees shared their unique perspectives on the benefits and (many) challenges of working at the intersection of health, development and the environment.
3. YOU NEVER REALLY KNOW WHO YOU NEED TO KNOW…UNTIL YOU MEET THEM.
One of our favorite parts of this event was the opportunity to meet and network with new people from outside of our 'usual' spheres. Although it can sometimes feel uncomfortable to attend a professional event with so few familiar faces, it's a big part of the beauty of the Bridge Collaborative. The value of personal relationships should not be underestimated.
What's Next?
We were deeply encouraged by the engagement and momentum generated at this event. But by the end of the second day, one thing was abundantly clear—our work has only just begun. In the coming year, the Bridge Collaborative will engage with a wide range of groups to test and improve upon the first iteration of our Practitioner's Guide, develop more resources to enable cross-sector action and build the momentum for cross-sectoral programming through impact-driven case studies. Together, we're working to pave the way for more integrated solutions to today's complex, global challenges. We hope you'll join us on the journey.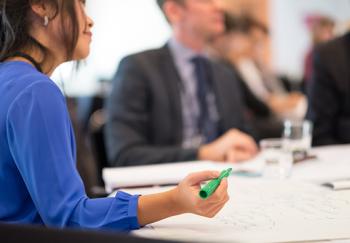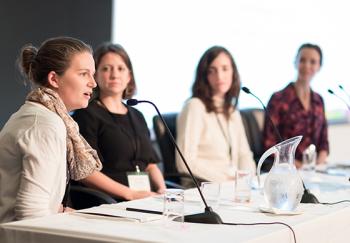 Bridge Spark Awards
IGNITING COLLABORATION
During our launch event, we hosted the Bridge Spark Awards—a live funding competition designed to help people quickly share and develop ideas and advance bold thinking for cross-sector evidence use and impact. Together, our attendees joined forces to brainstorm and submit their proposals.
The reward? Our three winners each received $10,000 USD to incubate their solutions and the opportunity to work with the Bridge Collaborative team to test, integrate and apply our community-developed guidance.
We received 20 submissions from both existing and brand new collaborations of diverse organizations and individuals. After a rapid round of judging, finalists presented their ideas live during the event, and our winning 'Bridge Spark Champions' were selected by popular vote and a panel of cross-sector experts.
Following this lively competition, we were delighted to announce our three inaugural winners:
Best All Around
Gillian Galford, University of Vermont
Subsidized Agriculture in Malawi
People's Choice
Megan Kelso, University of California, Davis
Conserving Indonesian Mangroves: Impact on Blue Carbon, Food Security and Livelihoods
Most Innovative
David Wilkie, Wildlife Conservation Society
Oil Boom in Uganda Needs a Multisectoral Solution
Learn more about our inaugural cohort of Bridge Spark Champions and their innovative ideas.
Congratulations to our winners, and a big thank you to our judges and everyone who participated!