In the San Joaquin Valley, the "breadbasket of California," kit fox numbers and asthma rates have something in common—their rise and fall is directly affected by agricultural activity, and the retirement and restoration of farmland stands to change both for the better.
The Bridge Collaborative brought together scientists from The Nature Conservancy (TNC) and specialists in health and pollution from leading universities in California for a fast-paced, one-day workshop. They had one shared ultimate aim: clarify linkages between health and environmental challenges in the San Joaquin Valley, and identify opportunities to work together to solve them.
Identify the Challenges
The San Joaquin Valley in California is one of the world's most productive agricultural regions, supplying billions of dollars-worth of fruit and vegetables, nuts and dairy products to Americans and the global export market every year. It is also home to four million people, and the state's highest concentration of threatened and endangered species including the San Joaquin kit fox, blunt-nosed leopard lizard, and giant kangaroo rat.
On the surface, this is the land of plenty. But intense, large-scale farming and unregulated groundwater extraction are taking their toll on the soils, water systems and communities of the San Joaquin Valley. Air quality is poor, drinking water is contaminated and groundwater—upon which the majority of farms and ranches depend—is being depleted.
To combat groundwater depletion, the State of California passed the Sustainable Groundwater Management Act (SGMA) in 2014, which requires groundwater-dependent regions to restrict the amount of water they extract to match the amount being recharged. As a result, agricultural land retirement is on the rise in the San Joaquin Valley. A team from The Nature Conservancy's California chapter is working to develop a strategic approach to this land retirement and restoration so that it can help bring back key habitat for threatened species.
At the same time, doctors in the San Joaquin Valley are treating the highest rates of asthma and respiratory health issues in the state, as well as higher than average infant mortality and lower than average birth weights.  Researchers have found growing evidence that while there are several factors contributing to these health impacts, agriculture is a major one. This evidence could help make the case for (and inform decisions on) where to retire and restore land that could benefit not just nature, but also the local community's health.
Create the Evidence and Opportunity
Rodd Kelsey, Lead Scientist for TNC's California chapter, saw the challenges in the San Joaquin Valley as ones that could benefit from cross-sector solutions.
"It is common knowledge that there is a link between agricultural activity and health problems, but I've done very little research on it," he admits.
When the Bridge Collaborative contacted him, we proposed a one-day workshop to get Rodd's team in the same room as experts in respiratory health and air pollution. It seems Rodd wasn't the only one that saw the potential for this to be mutually beneficial, as experts from UC Davis, UC Merced and CSU Bakersfield agreed to participate.
We facilitated the workshop to be fast and focused. Participants were able to share key insights on areas we quickly identified as being the most relevant for the disciplines in the room. Within four hours, we had mapped out the agriculture and health linkages, and begun to expose which, how, and why certain health impacts could benefit the most from land restoration.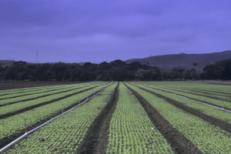 "This workshop approach really works if you keep the conversation focused," said Abby Hart, the agricultural project director for TNC's California chapter. "I was really struck by how easily the people in the room commanded the information. There were a lot of points that were apparently very well understood in their respective fields, yet these points were not at all clear to me beforehand from my conservation experience. It would have taken me a very long time to get all this information on my own."
It isn't that the data shared in the workshop haven't been published or made available, much of it has. Rather, organizations are kept in silos by a lack of time and technical expertise to find and explore these publications and relationships and determine how to bring these new opportunities into their projects.
According to Rodd, the Bridge Collaborative added value not only by dedicating staff time to researching the connected issues, approaching unexpected experts, and gathering together those people from different disciplines, but also by providing examples and tools at the workshop to steer the conversation and extract vital information in a short timeframe.
Make Greater Impact, Together
The engagement at this workshop exceeded the expectations of most, but only scratched the surface of what's possible with these connections. Our job now is to help sustain this momentum in California and to use feedback from the workshop to scale our approach.
TNC California has identified 2.5 million acres of current agricultural lands that have high potential for restoration in the region. With data shared in the workshop, the team can concentrate their efforts in areas that will have the most impact on human health too—retiring agricultural land in places with the highest fertilizer inputs for example, or where the fungus responsible for valley fever is most prevalent.
"This workshop has opened my eyes to the possibility of actually doing this—connecting nature and human health" says Rodd Kelsey. "It's already made me think about the human health aspect of other projects we're involved in, and it's also going to prove valuable for fundraising. These data presents us with the opportunity to reach out to a new group of donors more interested in human health, and we're already doing that."
The progress made through this workshop may not only have impact in San Joaquin Valley, but also serve as a more general case for cross-sectoral collaboration. The workshop group is working on a policy perspective article to shine light on the opportunities for breaking down silos to better achieve cross-sector objectives, building on their experience in the San Joaquin Valley.
Across the different engagements we are leading through the Bridge Collaborative, a lesson that continues to be reinforced is the power of connecting actors and experts who haven't had a reason to interact before. While connecting people is just the start, it truly is a spark to open up new pathways for solving tough challenges together across health, development and the environment.