What does vanilla production have to do with animal-borne disease?
This unexpected question has led a team of Duke University researchers down a new path as they explored collaborative solutions to the problem of animal-borne disease in northern Madagascar.
A Changing Landscape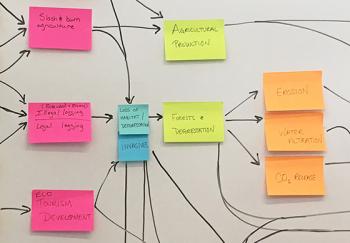 In northern Madagascar, rapid land-use changes are underway as forests are converted into agriculture or used for logging and hunting. Shifting ecosystem dynamics can challenge wildlife communities, increasing populations of invasive rats and other small disease-carrying mammals. The loss of forests and the development of roads have brought these animals closer to humans, where they can pass on diseases to livestock and people and pose risks to health, productivity and livelihoods.
Often, traditional approaches to forest conservation reduce exposure to animal-borne disease by restricting local people's access to forests. But in this region, many communities are dependent on natural resources and would suffer if they were cut off from forests. In the context of northern Madagascar, new solutions are needed that are responsive to the many interlinkages between people, animals and the environment.
Exploring Integration
Duke University researchers developed a collaborative, multi-year research program to explore the complex issues at the nexus of conservation, infectious disease and human behavior by integrating social and natural science approaches. Although the program already involves multiple sectors and approaches, we wondered whether or not a collaborative, cross-sector workshop would surface innovative solutions to address the complex challenges facing northern Madagascar.
In developing this workshop, we used three recommendations from the Bridge Collaborative Practitioner's Guide:
Recommendation 1
Include input from people representing diverse disciplines, expertise, career stages, roles and perspectives. The team comprises representatives from many university units, including the Duke Global Health Institute, the Nicholas School of the Environment and the Duke Lemur Center. The team includes undergraduate and master's students, research staff and faculty.
Recommendation 2
Take a systems view to provide a broader understanding of what the true scope of the challenge and interactions within the system may be. A central goal of the Duke program is to take a systems view, and the approach used during the workshop helped to structure this thinking. During the workshop, the team developed a situation analysis, tracing the root causes of both environmental and public health issues in northern Madagascar.
Recommendation 3
Analyze possible interventions or hypotheses using results chains. The team developed potential interventions to address root causes of animal-borne disease. Then, each of these interventions was used as the starting point for a results chain illustrating a theory about how the intervention would be transformative.
Using the situation analysis as a guide, the team brainstormed possible interventions that could address the root causes of animal borne-disease in northern Madagascar. One outside expert invited to participate in the workshop—a specialist in conservation education who works regularly in the study area—suggested that sustainable vanilla supply chain initiatives could be used to address deforestation. That one small suggestion drove a big change in the direction of the workshop discussion.
An Unexpected Connection
As it turns out, vanilla production might actually have a lot to do with animal-borne disease.
Although sustainably-sourced agriculture and forestry products are often considered conservation solutions, team members had not considered sustainable vanilla production as a way to address animal-borne disease in this context. As a starting point, the team developed a results chain that illustrated the potential for sustainable vanilla production to decrease human exposure to disease-carrying mammals by reducing deforestation, providing a stable alternative income for local communities and decreasing illegal hunting and logging in local national parks. The logic was that healthy and intact local forest wildlife populations (supported by intact forests) would reduce the probability that the number of invasive, disease-carrying rats will increase—and therefore have less contact with people.
The workshop was the basis for developing a new cross-sector solution that seeks to understand how conservation efforts aimed at reducing animal-borne disease can be incorporated into sustainable vanilla initiatives. Can these initiatives actually reduce deforestation and generate associated environmental and public health benefits?
The truth is, we don't know yet—but we're working to learn more. In fact, one of the project leads has already used the results chain developed during the workshop to help guide discussions in Madagascar with Malagasy stakeholders, including public health officials, local researchers and the private sector. Future research will continue to examine how land-use practices affect disease transmission pathways between mammals and humans and how sustainable vanilla initiatives can play a role in the reduction of disease outbreaks.
Lessons Learned
Cross-sectoral collaboration is critical to understanding and managing the challenges and opportunities at the interface of humans, animals and the environment. But in practice, what does this collaboration look like? From our experience at Duke, we learned that sometimes, all it takes is an unexpected idea to shift the narrative. By being intentional about including diverse voices and creating space for collaborative problem-solving, we can spark unlikely conversations that unlock new ways to approach the complex problems we face today.