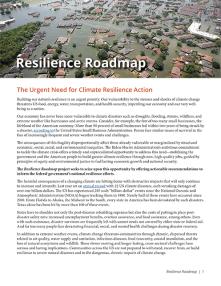 Building our nation's resilience is an urgent priority. Our vulnerability to the stresses and shocks of climate change threatens US food, energy, water, transportation, and health security, imperiling our economy and our very well-being as a nation.
Our economy has never been more vulnerable to climate disasters such as droughts, flooding, storms, wildfires, and extreme weather like hurricanes and arctic storms. The consequences of this fragility disproportionally affect those already vulnerable or marginalized by structural economic, social, racial, and environmental inequities.
The Biden-Harris Administration's ambitious commitment to tackle the climate crisis offers a timely and unprecedented opportunity to address this need—mobilizing the government and the American people to build greater climate resilience through new, high-quality jobs, guided by principles of equity and environmental justice to fuel lasting economic growth and national security. The Resilience Roadmap project seeks to seize upon this opportunity by offering actionable recommendations to inform the federal government's national resilience efforts.
Recommendations
Elevate resilience as a core element of the Biden-Harris Administration's climate responsibilities by empowering a Resilience Lead.
Advance a National Climate Resilience Strategy.
Coordinate government policy, planning, processes, and programs for disaster and resilience at all levels.
Develop a framework for equitable climate relocation.
Allocate and target federal expenditures for the greatest resilience benefit.
Directly advance meaningful engagement with local, rural, and Tribal communities to gain their knowledge and input on needs, learn from their experience, and create a forum for outreach and education on resilience risks and avoidance.
Provide financial and technical support and incentivize states, regional entities, Tribes, and localities to implement pre-disaster and risk planning.
Prioritize federal actions that build resilience in marginalized, low-income, and Tribal communities while also addressing adverse health and environmental effects to these communities.
Realign financial and regulatory incentives to price and reduce climate risk of all infrastructure spending.
Make scientific decision-making tools and data available, actionable, meaningful, and coordinated.
Policy Brief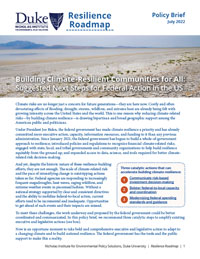 Under President Biden, the federal government has made climate resilience a priority and has already committed more executive action, capacity, information resources, and funding to it than any previous administration. And yet, these historic efforts are not enough as the effects of climate change grow more intense across the United States and the world. This policy brief follows up on Resilience Roadmap's original recommendations to suggest three catalytic steps for amplifying existing executive and legislative resilience-building actions.
Steering Committee members participated as individuals lending their personal expertise. Their professional affiliations do not imply organizational endorsement of these recommendations. Steering Committee members do not necessarily endorse every individual recommendation of the Resilience Roadmap project.