Annual Report
The Nicholas Institute for Environmental Policy Solutions' annual report highlights work to help decision makers create timely, effective and economically practical solutions to the world's critical environmental challenges.
2016 Annual Report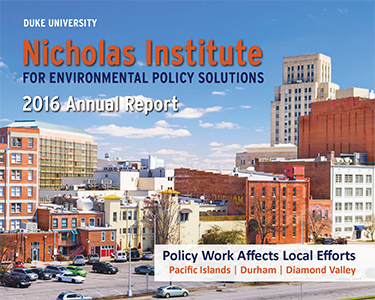 The Nicholas Institute for Environmental Policy Solutions targets interdisciplinary research to problems as they arise to provide timely analyses of policy changes and their long-term implications. It's through our adaptability—and through the premium we place on collaboration—that we are finding opportunities to break down barriers to environmental progress. In this year's report, we describe three projects that blur the distinctions among our programs, bringing together teams that draw on whatever expertise best illuminates the problem and its potential solutions. In addition, we showcase three recent recruitments that speak to our commitment to collaboration and to the increasingly high regard with which others hold the Nicholas Institute's expertise.
2015 Annual Report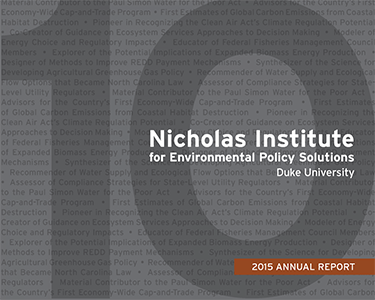 Download PDF | Interactive Flipbook
In this report, we celebrate our accomplishments in 2015 and reflect on how far we've come at this, our tenth anniversary. In the feature story, we present some of the most cutting-edge and influential projects in our vast portfolio of work. We advised California on several aspects of the design of the country's first economy-wide cap-and-trade program for greenhouse gases. Through the seminal report, A Silent Tsunami, we provided a material contribution to legislation aimed at dramatically improving access to clean water and sanitation around the world. We brought attention to one of the world's most critical environmental problems by providing the first estimates of global carbon dioxide emissions from the destruction of coastal and marine ecosystems. And we served as a pioneer in recognizing the potential and finding practical strategies to use the Clean Air Act to address climate change.
2014 Annual Report
Download PDF | Interactive Flipbook
At the heart of the Nicholas Institute for Environmental Policy Solutions' mission is one clear objective: shaping policy making by educating decision makers and organizations about their choices. Our Fiscal Year 2014 Annual Report showcases tools we are creating to improve decision making and effect positive change now and potentially decades into the future. Read about the Energy Risk Lab, the Conservation Economics Initiative, and the Federal Resource Management and Ecosystem Services Guidebook in the report's feature story. Also highlighted are research and other efforts to inform the nation's energy choices, to overhaul the nation's water system, to reflect green infrastructure in accounting systems, to manage nitrogen inputs, and to tackle the challenges of climate change in fisheries management.
2013 Annual Report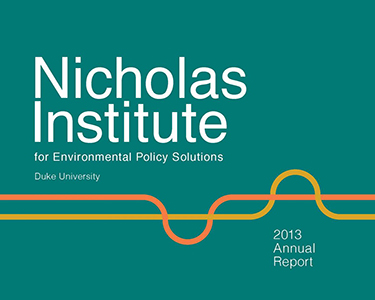 Download PDF | Interactive Flipbook
​The report provides an overview of fiscal year 2013 accomplishments, including programmatic milestones, selected research publications, and ground-breaking work on blue carbon.