The Nicholas Institute for Energy, Environment & Sustainability annual report highlights work to advance Duke University's mission of building a more sustainable world.
2022 Annual Report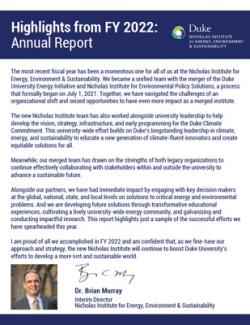 Fiscal Year 2022 was a momentous one for the Nicholas Institute for Energy, Environment & Sustainability with the merger of the Duke University Energy Initiative and Nicholas Institute for Environmental Policy Solutions. Together, the institute's unified team has navigated the challenges of an organizational shift and seized opportunities to have even more impact.
The new Nicholas Institute team worked alongside university leadership to help develop the vision, strategy, infrastructure, and early programming for the Duke Climate Commitment. This university-wide effort builds on Duke's longstanding leadership in climate, energy, and sustainability to educate a new generation of climate-fluent innovators and create equitable solutions for all.
Through it all, the Nicholas Institute continued to advance Duke's mission to build a more sustainable world by developing transformative educational experiences, galvanizing and conducting impactful research, and engaging with key decision makers at all levels to create solutions to pressing energy and environmental problems—three efforts that are intentionally intertwined.