August 10, 2022
Introducing the Nicholas Institute for Energy, Environment & Sustainability
Nicholas Institute for Environmental Policy Solutions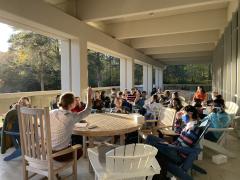 Nicholas Institute, Energy Initiative announce new name
A Duke University organization created by the July 2021 merger of two of the university's interdisciplinary units has announced its new name: the Nicholas Institute for Energy, Environment & Sustainability.
The institute unites the strengths of the Nicholas Institute for Environmental Policy Solutions (founded in 2005) and Duke University Energy Initiative (founded in 2011). Working closely with Duke University schools and other units, the merged institute advances the university's environmental mission by developing transformative educational experiences; galvanizing and conducting impactful research; and engaging with decision makers at the global, national, state and local levels.
The new name honors the late Peter M. Nicholas '64 and his family, whose philanthropy launched and helped sustain the Nicholas Institute for Environmental Policy Solutions. Nicholas served as a volunteer leader across more than three decades on the Duke University Board of Trustees, fundraising campaigns and school advisory boards. He and his family also provided the naming gift for the Nicholas School of the Environment and created the Nicholas Faculty Leadership Initiative.
"The Nicholas Institute for Environmental Policy Solutions established a strong reputation for helping decision makers craft effective approaches to critical environmental challenges," said Brian Murray, interim director of the merged institute and a research professor at the Nicholas School of the Environment and Sanford School of Public Policy. "Meanwhile, the Energy Initiative built a robust community of energy faculty, staff, students and alumni spanning Duke University—and supported them with programming to advance education, research and engagement goals. The Energy Initiative's efforts have been bolstered by a generous early gift from emeritus trustee Ralph Eads '81 and his wife, Lisa."
"Bringing these two units together not only expands Duke's investment in this space, but also creates a powerhouse to deepen the university's impact on energy and environmental issues that matter," Murray added.
The naming announcement comes as Duke University President Vincent Price calls for the university to ramp up its commitment to accelerate solutions for climate change and its impacts—and to educate and deploy a new generation of climate-fluent change makers.
"Duke has been committed to leadership and innovation on pressing environmental issues for decades," noted Provost Sally Kornbluth. "Both the Nicholas Institute and Energy Initiative helped build that legacy. Moving forward, the merged Nicholas Institute for Energy, Environment & Sustainability will play a critical role in our university-wide approach to advancing climate solutions."
Since the merger commenced in summer 2021, the institute has continued to deliver its full portfolio of energy and environmental research, education and engagement programs on critical issues such as climate resilience, water affordability, ocean energy and environmental justice. Murray and senior staff have also played key roles in planning the university-wide climate effort and catalyzing several new collaborations on climate change.
This spring, the Nicholas Institute awarded the first round of University-Wide Collaboration Grants on Climate Change, funding eight Duke University faculty teams to lay the groundwork for new research on climate change and its effects. Recipients spanned seven Duke schools, 13 departments and eight interdisciplinary units. Over the next three years, the institute will offer additional funding opportunities to support projects linked to university-wide climate research priorities.
In addition, the Nicholas Institute collaborated with the Rhodes Information Initiative at Duke to create new summer opportunities for students to apply cutting-edge data science methods to climate challenges. The initial cohort of Climate+ teams enabled Duke undergraduate and graduate students to work with faculty on diverse interdisciplinary research topics this summer, including electricity consumption, wetland carbon emissions, climate change's effects on river and ocean ecosystems and the use of remote sensing data to inform climate strategies.
A new partnership with the U.S. Department of State this spring tapped into the Nicholas Institute's policy and pedagogical expertise and highlighted insights about international climate policy from experts at Duke and beyond. The State Department selected the institute to provide content for an eight-webinar series designed for a scholarship program that supports American students of limited financial means to study or intern abroad. The resulting series—open to university students nationwide and now available on YouTube—aimed to help attendees better understand the social, political and economic impacts of the climate crisis through a foreign policy lens.
Keep Up with the New Nicholas Institute
In late August, the Nicholas Institute unified its email and social media channels. You can now sign up to receive email updates and follow the institute on Twitter, LinkedIn, Instagram, YouTube, and Facebook. A new website will launch during the 2022-2023 academic year.
This article was revised to include more information on early support for the Duke units that have merged and to provide information about the institute's newly unified communications channels. The article originally appeared in Duke Today on Aug. 10, 2022.