October 12, 2017
Konschnik to Lead Climate and Energy Program
Nicholas Institute for Environmental Policy Solutions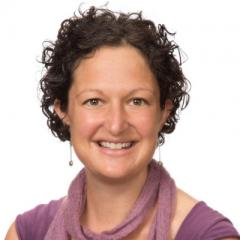 DURHAM, N.C. -- Kate Konschnik, a lecturer on law and executive director of Harvard's Environmental Law Program, has been named director of the Climate and Energy Program at Duke University's Nicholas Institute for Environmental Policy Solutions. She begins her role Dec. 1.

"We are thrilled to have Kate's leadership at the Nicholas Institute," said Nicholas Institute director Tim Profeta. "There are few people that have her combination of deep legal and policy expertise, sage political instincts, and warm and engaging personality. Kate has all of this, and as a result will be a skilled navigator for our Climate and Energy Program."

Nicholas Institute research has made significant contributions to understanding of both the electricity sector's potential responses to regulatory, market, and technology changes and the emissions consequences of those responses. Our legal analyses and modeling have provided a solid foundation to help states address their own distinct decision-making challenges amid uncertainty, which has deepened as the Trump administration looks to roll back Obama-era climate policies.

As Climate and Energy Program director, Konschnik will assume responsibility for working with state and federal stakeholders in the climate and energy policy community on topics on which she has engaged in for some time, including climate change, the Clean Air Act, and energy law and policy. She will also work closely with faculty in schools across Duke to maximize the impact of the Nicholas Institute's Climate and Energy Program.
"I'm excited to join an interdisciplinary team with deep regional ties and a stellar national reputation," said Konschnik, who accepted the Nicholas Institute role in September. "It is an honor to become associated with the Nicholas Institute's ground-breaking climate and energy work, and I look forward to building on the program to meet today's challenges and take advantage of opportunities."

Konschnik founded the Harvard Environmental Law Program's Environmental Policy Initiative (EPI), establishing EPI as a go-to source for independent energy and climate legal analysis. Her research into hydraulic fracturing chemical disclosure informed policy recommendations by the Secretary of Energy's Advisory Board and was instrumental in overhauling the national disclosure database, FracFocus.

While at Harvard, Konschnik also co-founded Power Shift with the Nicholas Institute, a series that brings together electricity practitioners and energy law professors to design the legal infrastructure for tomorrow's grid.

Prior to joining Harvard Law School, Konschnik was chief environmental counsel to U.S. Sen. Sheldon Whitehouse (D-R.I.) and directed his staff on the Oversight Subcommittee of the Senate Environment and Public Works Committee. From 2002 to 2009, she served as an environmental enforcement trial attorney in the Environment and Natural Resources Division of the U.S. Department of Justice, where she represented the U.S. Environmental Protection Agency in New Source Review litigation. She also represented the Environmental Enforcement Section in drafting Clean Air Act policy proposals for the incoming Obama administration.

Konschnik holds a bachelor's degree in political science from Tufts University and a J.D. cum laude from UC Hastings College of the Law.

###
Members of the media may speak with Kate Konschnik by contacting erin.mckenzie@duke.edu or 919.613.3652.