July 9, 2013
Nicholas Institute Ranked Among Top 10 Think Tanks Globally
Nicholas Institute for Environmental Policy Solutions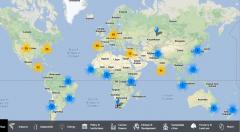 FOR IMMEDIATE RELEASE: Tuesday, July 9, 2013

CONTACT: Erin McKenzie
(919) 613-3652
erin.mckenzie@duke.edu
DURHAM, N.C. – The International Center for Climate Governance (ICCG) places Duke University's Nicholas Institute for Environmental Policy Solutions among the top 10 climate change economics and policy focused think tanks in its recent standardized global ranking.
The ranking is the first by ICCG and is based on the integrity of the climate research of each institution and how effectively the research was used in addressing climate change policy in 2012. It puts the Nicholas Institute in ninth place, with the winning spot going to the Belfer Center for Science and International Affairs.
"We of course are very pleased to be acknowledged by ICCG for our work," said Nicholas Institute Director Tim Profeta. "For an institute of our youth, it reinforces for us how far we have come so fast. We look forward to using our role to help the globe work to solve the challenge of climate change."
The methodology for the ranking was based on "per capita productivity," taking into account the activity of the think tank relative to the number of its researchers. It also looked at a set of five indicators—events, U.N. Framework Convention on Climate Change submissions, articles in peer-reviewed journals and the frequency those articles were cited, non-peer reviewed publications and whether staff were authors of Intergovernmental Panel on Climate Change reports—and assigned them weights reflecting their importance.
More information regarding the rankings can be found in ICCG's report.
###