June 29, 2020
Policy in the Pandemic: Housing Security Policies Reduce U.S. COVID-19 Infection Rates
Nicholas Institute for Environmental Policy Solutions
By Kay Jowers, Christopher Timmins, and Nrupen Bhavsar
As the impact of COVID-19 grows in the United States, the lack of vaccines or effective treatment, coupled with anticipated subsequent outbreaks, has made it necessary to adopt unprecedented policy interventions across many aspects of daily life. Now many people are facing financial challenges resulting from these interventions and are struggling to pay housing and utility costs.
In response, many jurisdictions have temporarily halted evictions, suspended foreclosures, and granted relief from utility shutoffs. For example, the federal CARES Act placed a 120-day moratorium on evictions for properties that participate in government programs or that have a federally backed mortgage loan. In addition, many state and local governments issued orders that electric and water utilities continue service even when customers were unable to pay their bills. These protections have been essential for stabilizing people who have lost jobs or experienced income reductions. But they are beginning to expire just as many states are seeing increasing numbers of COVID-19 cases.
Given these evolving circumstances, we decided to look at how housing security interventions have affected infection rates. In our analysis, we evaluate the impacts of:
locally implemented policies targeting housing security (specifically, policies designed to prevent eviction or shutoff of water and/or electricity),1
federal policy implemented through the CARES Act,2 and
orders that restrict movement (i.e., "stay-at-home orders").3
Our data constitute a panel of daily observations of the confirmed infections in each of 3,141 U.S. counties from March 1 to May 31.4 We calculate the growth rate in infections5 and use county-level fixed effects to adjust for county-level characteristics that do not change over our sample period (i.e., age, race, income, education, housing security, health indicators, environmental indicators, institutional living, transportation use, and percent of the workforce employed by an essential business). We also use fixed effects that vary by week and state to account for changing access to testing. Finally, we include a flexible time trend and account for the duration that each policy has been in effect.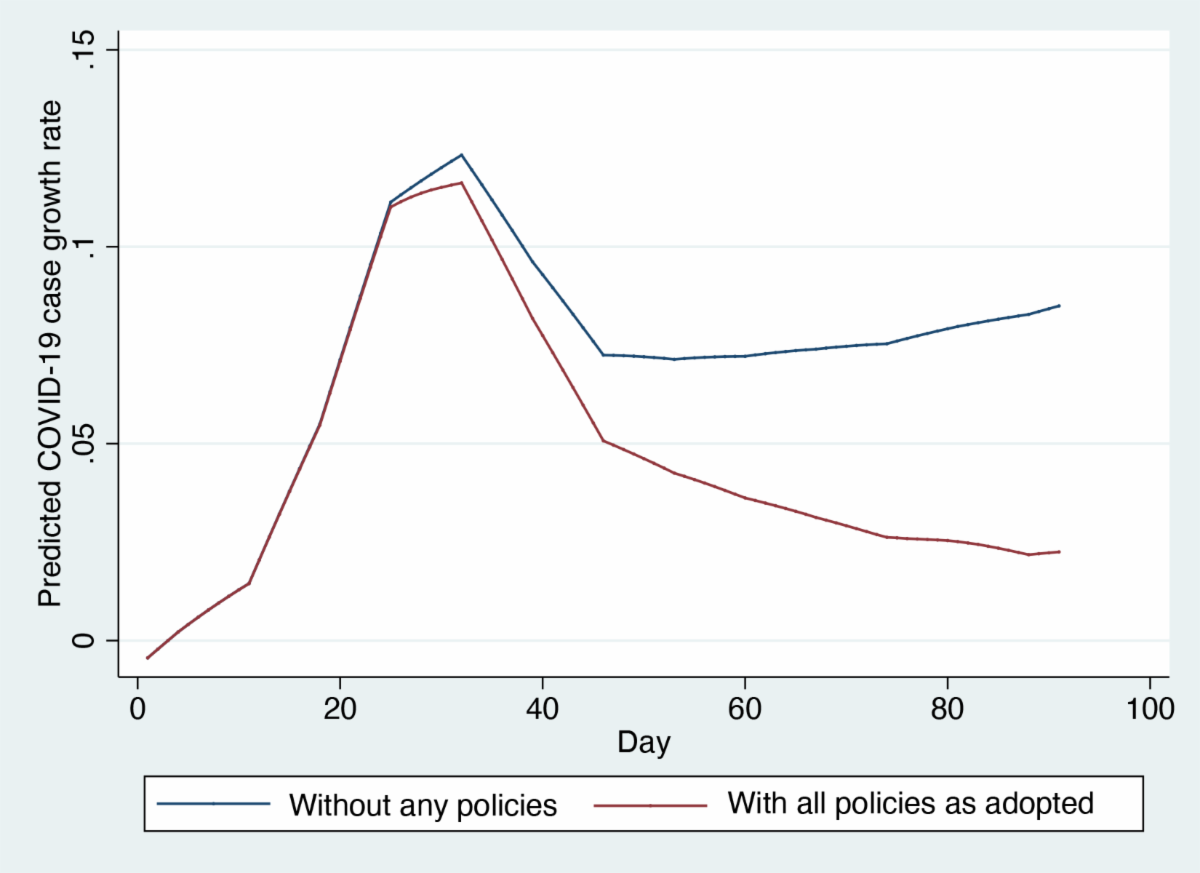 The scenarios presented below illustrate the impacts of these housing security policies on daily coronavirus case growth rates and the degree to which they may matter for managing the pandemic. We found that the CARES Act and eviction, water, and utility moratoria significantly reduced daily infection growth rates as compared to a simulation of the growth rate if no policies were implemented.
Figure 1 illustrates the combined effect of all three policy categories as they were actually implemented in the U.S., or the average growth rate across all counties at each point in time, combined with a simulated growth rate showing the result if none of the policies had been adopted. If we assume no policies had been adopted, the predicted average growth rate per day is 7.2%, while the actual growth rate is 4.7%. Thus, at the end of the sample on day 91, the predicted growth rate of an average county where no policies were in effect is 8.7% whereas that of an average county in reality is 2.3%, suggesting that the set of policies has reduced the growth rate by 6.4%.
Figure 2 breaks down the role of eviction and utility moratoria in those reductions. The evictions moratoria and water and utility moratoria show the average daily growth rate if every county in the U.S. had implemented these policies throughout the duration of the sample period. These are again compared to a predicted average daily growth rate for no policies of 7.2%. If a state or local eviction moratorium were in place, the average growth rate per day decreases to 2.7%; if the water and utility shutoff moratoria are in place, the average growth rate per day decreases to 4.6%. This shows that the eviction moratoria reduce the average growth rate by 4.5% and water and utility shutoff moratoria reduce the average growth rate by 2.6%.
In Figure 3, we turn to the effects of federal housing policy through the CARES Act and stay-at-home orders, relative to a "no policy" daily growth rate. On average, while the CARES Act is in place, the predicted growth rate per day is 5.0%, reducing the average growth rate by 2.2%. If a stay-at-home order is in place, the predicted growth rate per day is 7.0%, which results in a 0.2% reduction in the average log growth rate.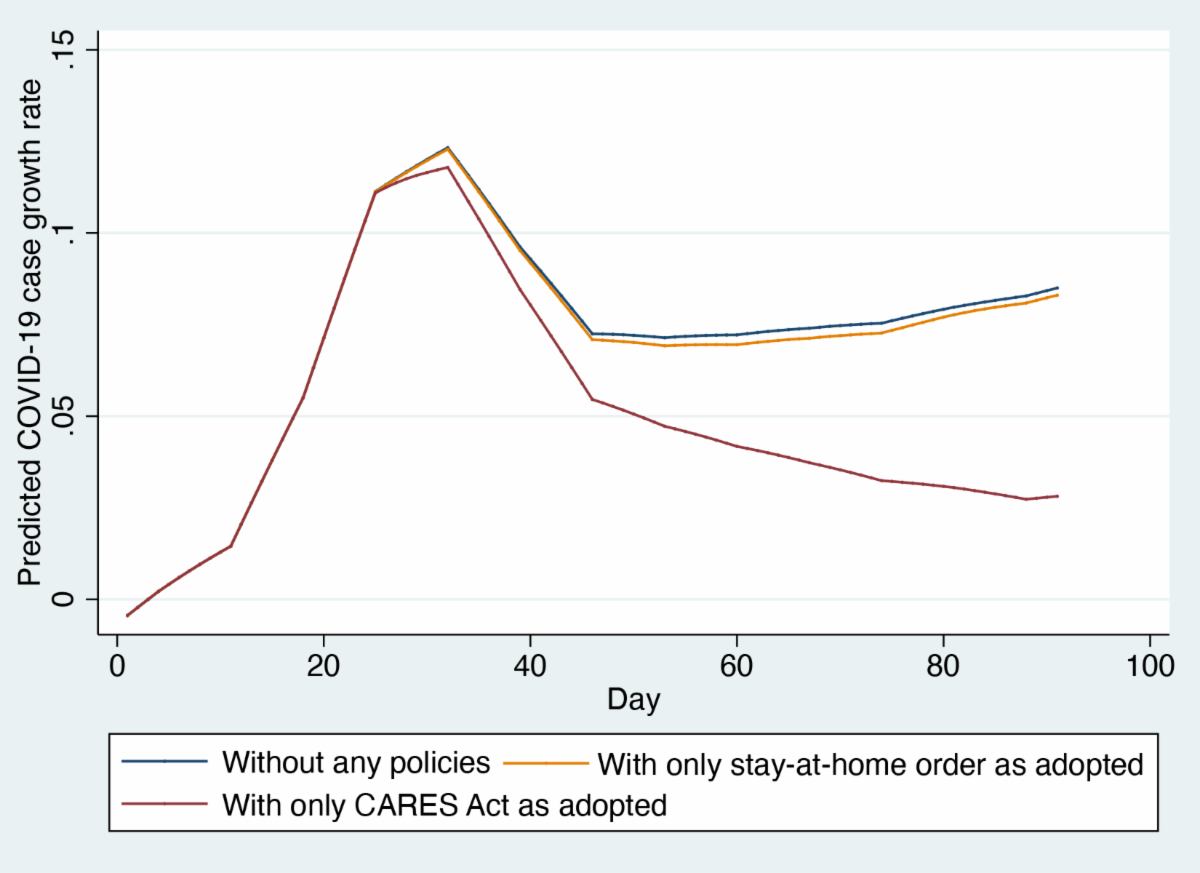 Our analysis shows that eviction, electricity, and water utility moratoria have played an important role in containing the COVID-19 pandemic and one that should be carefully considered as these moratoria are lifted. We are engaged in continuing to analyze these policies and their effects at mitigating the spread of COVID-19. Simultaneously, these policies also have impacts on landlords and utilities, the implications of which are not well understood either. A deeper understanding of how these moratoria affect both the spread of COVID-19 and those who supply housing, water, and electricity will better inform policy decisions during this public health crisis.
Kay Jowers is a senior policy associate with the State Policy Program at Duke University's Nicholas Institute for Environmental Policy Solutions. Christopher Timmins is a professor in the Department of Economics at Duke University. Nrupen Bhavsar is an assistant professor in medicine at Duke University School of Medicine.
The Big Questions
To continue the conversation on this week's topic, here are a few questions for further consideration and study:
How will phasing out moratoria on evictions and essential service disconnects affect people of color and low-income/low-wealth people who are already suffering disproportionally from the COVID-19 pandemic?

Should decision makers extend moratoria on evictions and water and electricity disconnections?

What effects are eviction, electricity, and water utility moratoria having on landlords and utilities?
What to Know for This Week
Subscribe
"Policy in the Pandemic" is a weekly email featuring insights from the Nicholas Institute on how the COVID-19 pandemic is affecting environmental and energy policy. Click here to subscribe.
---
1 The data for the state and local moratoria on evictions and electricity, and water service shut offs are derived from:
2 The impact of the federal CARES Act is measured as the combined effect of two variables: 1) the interaction of the CARES Act with the percentage of housing in the county that is subsidized by Housing Choice Vouchers (HCV) the interaction of the CARES Act with the percentage of single-family homes with Federal Housing Administration (FHA) mortgage insurance in force. Originally available at the level of census tract, both the HCV and FHA variables are aggregated to county-level for the purpose of this estimation and are used as credible indicators for the extent to which CARES Act housing security protections apply. Data sources:
3 Data Source: Institute for Health Metrics and Evaluation, University of Washington. 2020. COVID-19 resources. http://www.healthdata.org/covid
4 Coronavirus Case Data. 2020. Prepared by Social Explorer. https://www.socialexplorer.com/0c9a5f4887/view (based on data from The New York Times and The COVID Tracking Project).
5 To calculate the growth rate, we take the difference in the log transformed count of confirmed COVID-19 positive cases across days, ln(confirmed casest) – ln(confirmed casest-1)
Featured Experts

Director, Just Environments

Professor, Department of Economics and Nicholas School of the Environment