February 13, 2013
Special Journal Issue Features Work of Nicholas Institute Researcher
Nicholas Institute for Environmental Policy Solutions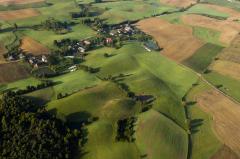 FOR IMMEDIATE RELEASE: Wednesday, Feb. 13, 2013
CONTACT: Erin McKenzie
919-613-3652
erin.mckenzie@duke.edu
DURHAM, N.C. -- Feeding the world sustainably requires balancing a growing population's food and nutritional needs while limiting the greenhouse gases released by agriculture, a growing contributor to climate change.
In a new special issue of the journal Environmental Research Letters, Lydia Olander, Ecosystem Services Program director at Duke University's Nicholas Institute for Environmental Policy Solutions, and others tackle the topic. The journal issue explores the current state of greenhouse gas quantification methods, the potential for improving these methods and proposes new ideas for policy makers in developing countries. Olander served as a guest editor of the issue and author of one of the eight pieces in the edition, which is out this week:
This is the first set of articles in the special issue. Others will follow in the coming months as part of a series on improving quantification of agricultural greenhouse gases.
The special issue is sponsored by the CGIAR Research Program on Climate Change, Agriculture and Food Security and the Nicholas Institute, with support from the David and Lucille Packard Foundation and FAO.
All eight articles are now available online. To learn more about the project, visit http://nicholasinstitute.duke.edu/ecosystem/t-agg/international-project.
###