April 19, 2023
Students Help Power Up New Ways to Analyze Energy Data
Nicholas Institute for Environmental Policy Solutions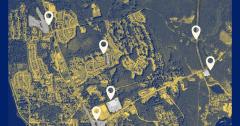 Led by Kyle Bradbury, the Energy Data Analytics Lab at the Nicholas Institute for Energy, Environment & Sustainability is applying new data science techniques to satellite imagery to detect and map energy resources. These novel approaches can yield critical data for decision making to support the global transition to sustainable energy.
Over the past eight years, Bradbury and colleagues have engaged students in this research via Duke's Bass Connections program during the school year and Data+ program (including the new Climate+) during the summer. A continuous chain of sixteen project teams has helped test and refine promising approaches, each team building on the work of the last.
"Through these projects, dozens of students from diverse degree programs have learned about machine learning, computer vision, and remote sensing techniques and also gained a better understanding of energy challenges and opportunities," said Bradbury, a faculty member at the Pratt School of Engineering and Nicholas School of the Environment. "They have advanced the lab's work while deepening their own research, project management and communications skills. Many have been able to add published journal articles and data sets to their resumes."

Article originally published at Duke Today with an interactive graphic as part of the Climate Education series.