November 15, 2023
York University Students Earn First Prize at 2023 Energy in Emerging Markets Case Competition
Nicholas Institute for Environmental Policy Solutions
Teams from the University of Colorado at Boulder and the IESE Business School rounded out the top three, which were collectively awarded $15,000.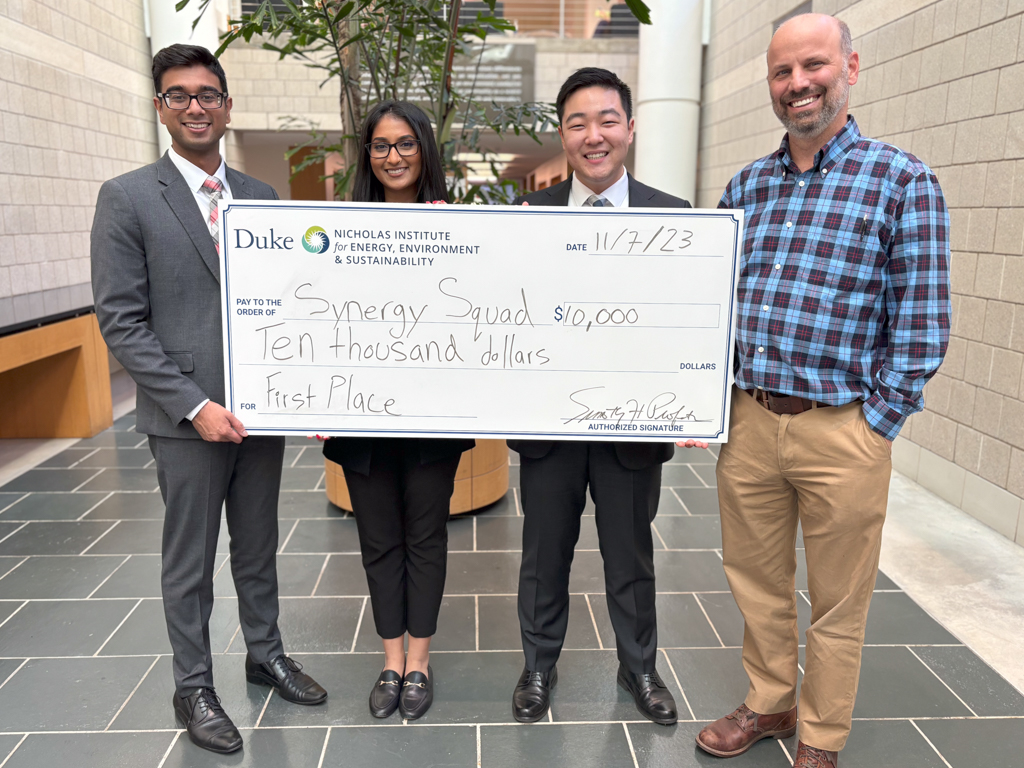 Three graduate students from York University in Toronto took first place in the finals of the 2023 Energy in Emerging Markets Case Competition held Nov. 7 at Duke University.
Now in its 11th year, the competition engages diverse, creative teams of graduate students to address real energy challenges affecting the developing world. Students are encouraged to propose unconventional, business-based solutions for an industry partner, exposing unrecognized opportunities with positive social and environmental impact.
The competition, which awards $15,000 in prizes annually, is organized by the MBA Energy Club at Duke's Fuqua School of Business and sponsored by the James E. Rogers Energy Access Project at Duke. The competition is part of Energy Week at Duke, an annual event series organized by Duke students with support and advice from the Nicholas Institute for Energy, Environment & Sustainability and the Center for Energy, Development, and the Global Environment (EDGE) at Fuqua.
The top teams were:
First Place – York University ($10,000)
Ian Chang
Disha Mittal
Abilash Sathyakumar
Second Place – University of Colorado at Boulder ($4,000)
Erik Coler
Richard Swistara
Nathaniel Reynolds
Mary Boling
Third Place – IESE Business School at the University of Navarra ($1,000)
Jaime Gaya
Francisco Boscan
Satofumi Ushigami
Benjamin Mazin
The two other finalist teams represented the Cambridge Judge Business School (University of Cambridge) and the Kellogg School of Management (Northwestern University).
The winners from York University described the competition as a fantastic learning opportunity. "It was inspiring to see the creative and practical ideas that all the teams put together to tackle the electrification hurdles in last-mile communities in Nigeria," said competitor Abilash Sathyakumar. "A special thanks to the Energy in Emerging Markets Case Competition organizing committee and the Energy Access Project for putting together a great experience for allowing business schools worldwide to come together and address a modern-day challenge."
Members of the team from the University of Colorado at Boulder appreciated the opportunity to apply their creativity and business acumen to a real-world problem. "Participating in this competition was exhilarating, offering us the chance to engage with and learn from other top MBA programs while tackling a case that realistically modeled renewable energy implementation in emerging markets," said competitor Richard Swistara.
Over the fall, the competition engaged more than 60 teams of graduate students from more than 30 universities spanning eight countries: the United States, Canada, Indonesia, Nigeria, France, the United Kingdom, Spain and China.
Okra Solar, this year's industry partner, is a technology company that delivers mesh-grid solutions to electrify remote, off-grid communities. The case challenged teams to evaluate the existing business model Okra pitches to energy developers. Teams were also asked to determine whether Okra's installation method for its mesh grids, paired with its payment model, is the most effective way to penetrate the Nigerian market.
Judges for the final round represented Okra, The AES Corporation, Veritas Consulting, Sustainable Energy for All, Marathon Capital and Duke's Nicholas Institute for Energy, Environment & Sustainability. In-person attendees had the opportunity to meet the judges during a networking lunch to hear about their own work and professional trajectories and get career advice.
Started in 2013, the competition was the vision of the late Jim Rogers, former CEO of Duke Energy. Rogers worked with Duke University for more than a decade to develop partnerships and identify opportunities to bring modern energy to developing countries. That work continues at Duke through the Energy Access Project, which Rogers and his wife, M.A., established with a gift in 2017 and today bears his name.
"Jim wanted to take what he learned about scaling business ventures around the country and apply it to the Global South to help lift hundreds of millions of people out of energy poverty," said Tim Profeta, senior fellow at the Nicholas Institute and a judge for this year's competition. "I'm proud to see his legacy carried on through the spirit and creativity on display during this competition."
The lead Duke student organizers for the 2023 Energy in Emerging Markets Case Competition were Marla Harvey (MEM/MBA '25) and Ben Egan (MEM/MBA '24).
Questions? Contact Egan at benjamin.egan@duke.edu.