December 5, 2012
Donor Spotlight: N.J. Nicholas Jr.
Nicholas Institute for Environmental Policy Solutions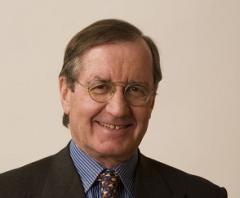 Editor's Note: N.J. Nicholas Jr. is the first to be featured in a periodic series highlighting donors to the Nicholas Institute for Environmental Policy Solutions. He has been a member of the Nicholas Institute's Board of Advisors for five years. Outside this role, he has held a number of executive positions with Time Warner Inc. during a 30-year career with the company. Nick is currently a board member of Boston Scientific Corporation and Time Warner Cable. He is also the brother of Pete Nicholas, a long-time Duke benefactor who, together with his wife Ginny, provided the leadership and resources for the founding of Duke's Nicholas School of the Environment and the Nicholas Institute for Environmental Policy Solutions.
What led you to become interested in environmental issues?
I became involved with environmental issues serving on the Commission on Environmental Quality during George H. W. Bush's administration. President Bush took these issues very seriously and he assembled a group—business people, scientists, NGO leaders, energy executives—who were committed to advancing environmental discussions. It was during these meetings that I began to understand that solving environmental issues need not be an "either-or" proposition, and policy solutions could be designed that were "win-win" for the environment and for the economy. I subsequently became actively involved with the Environmental Defense Fund where I have served as a trustee for the past 15 years.
Which environmental issues are you most passionate about and why?
Well, it changes. Right now the huge discoveries of shale gas and oil present an enormous opportunity to reduce carbon pollution while at the same time better securing our energy future. There are serious environmental concerns related to hydraulic fracturing (fracking) and we need to apply the best science and technology to develop policies and solutions to make sure we can take advantage of these natural resources in a way that also secures and protects the environment.
What makes the Nicholas Institute for Environmental Policy Solutions different from (and complementary to) its peer organizations?
Public and private sector decision makers are faced every day with complicated regulatory issues and legislation. That said, when it comes to getting insights and advice on these complex issues—who do you turn to for unbiased research and fact-based information? Most especially in today's world of rabid partisanship, where everyone seems to have an axe to grind and it's hard to separate fact from fiction. Supported by Duke University and its environment, engineering, law, economics, medical and business school faculties—and with no advocacy agenda—the Nicholas Institute for Environmental Policy Solutions is at the top of the list of organizations which are able to provide the credible and trusted analyses that we desperately need
Why might others consider becoming involved with the Nicholas Institute? How can the Nicholas Institute be a valuable partner to decision makers in business and philanthropy?
We live in a world of sound bites and partisanship, which unfortunately will not change soon. All of us interested in promoting sound environmental policy need to support and encourage those few truly non-aligned institutions such as the Nicholas Institute that have the capability of producing world-class fact-based research which can then be reinforced with sensible economic and legal policy frameworks.
What are some environmental issues that people should be paying attention to that they may not have on their radar?
We sometimes lose sight of the concept of individual responsibility, and want the government to do everything for us. There remains a lot of low-hanging fruit which we as individuals can do something about. Why not turn off the lights when you leave a room, own a high-mileage car, install energy-saving thermostats? The list is endless. The cumulative impact of all of us having smaller carbon footprints would be huge. Equally important, as citizens, we all need to assume responsibility to be reasonably well informed on scientific and economics issues where they relate to solving the most pressing environmental problems. Duke's Nicholas Institute website is a good place to continue your education.
###