Nicholas Institute for Environmental Policy Solutions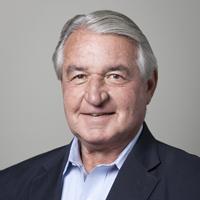 Peter M. "Pete" Nicholas
Co-Founder and Chairman, Boston Scientific Corporation
Pete Nicholas is co-founder and chairman of the board of Boston Scientific Corporation. He served as chairman and chief executive officer from the company's founding in 1979 until 1999, when he turned over CEO responsibilities to Jim Tobin, who serves in that capacity today. Under Nicholas' vision and leadership, Boston Scientific has grown from a start-up company with 38 employees to a global corporation with approximately 20,000 employees and revenue of $6.3 billion in 2005. Boston Scientific is the world's largest medical device company dedicated to less-invasive therapies.
Before co-founding Boston Scientific with John Abele, Nicholas served as general manager of the Medical Products Division of Millipore Corporation. From 1968 to 1978, he held a variety of positions both domestically and internationally at Eli Lilly in sales, marketing, and general management.
Nicholas is a Fellow of the American Academy of Arts and Sciences and vice chair of its Academy Trust, and he is a member of the American Academy of Achievement. He is a recipient of the Phoenix Lifetime Achievement Award, signifying distinguished leadership and accomplishment in the medical device industry. He is also a recipient of the Ellis Island Medal of Honor. Nicholas has served on various for-profit and not-for-profit boards, and was formerly chairman of the board of trustees of Duke University. He is the founder of the Nicholas School of the Environment at Duke University.
Nicholas served as an officer in the U.S. Navy from 1964 to 1966, resigning his commission as a lieutenant. He holds a BA from Duke University and an MBA from the Wharton School of Business at the University of Pennsylvania.