Nicholas Institute for Environmental Policy Solutions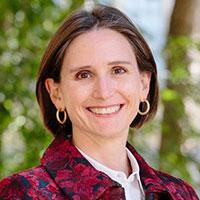 Toddi Steelman
Vice President and Vice Provost for Climate and Sustainability
Toddi Steelman began her role as Vice President and Vice Provost for Climate and Sustainability on July 1, 2023. Previously, Steelman had been Stanback Dean of the Nicholas School of the Environment since 2018.
Prior to serving from 2012 to 2017 as executive director at the University of Saskatchewan's School of Environment and Sustainability, Steelman spent 11 years on the faculty in the Department of Forestry and Environmental Resources at North Carolina State University and four years in the Graduate School of Public Affairs at the University of Colorado at Denver.
Her policy research spans many environmental and resource management issues, including forest management and planning, water security, open space protection, and climate change, but she is best known for her work on community adaptation to wildfires and how communities and agencies can interact for more effective wildfire management.
She sits on the board of directors for the International Association of Wildland Fire, and was selected as a Fulbright Scholar in 2008.
In addition to holding a Ph.D. from Duke University, Steelman holds a Master in Public Affairs from Princeton University and a Bachelor of Arts in Political Science and International Studies from West Virginia University.