Four winning teams of the 2020 Bridge Spark Fund each received US$150,000 awards to advance solutions benefiting the environment, human health, and sustainable development
The projects, selected by a panel of distinguished judges, took steps towards stabilizing the climate, improving food systems, building healthier communities, cleaning up water supplies and improving the environment. Using a surprising set of approaches—from bats to electricity technology, and seaweed to infrastructure bonds—these teams charted a course to a better, more sustainable future.
"We launched the Bridge Spark Fund to help teams break out of the silos we typically work in. Today's global challenges don't respect these silos, so we have to stop thinking that traditional ways of working will solve them" said Heather Tallis, founder of the Bridge Collaborative and Lead Scientist for Strategy Innovation at The Nature Conservancy. "The winning teams are on the leading edge of a growing wave of efforts that take calculated risks and deliver positive impacts for both people and nature."
Today's global challenges affect the planet and people's lives with equal impact. To drive bigger change faster towards the Sustainable Development Goals and the Paris Agreement, we need solutions that move more than one needle at a time.
Motivated by this need, the Bridge Collaborative launched the Bridge Spark Fund—a funding opportunity to strengthen the pipeline of integrated solutions ready to address today's most pressing global challenges across the environment, human health, and sustainable development. The Bridge Spark Fund is funded by Lyda Hill Philanthropies.
Putting Ideas into Action
The four winning teams drove impact in the United States, and several low- and middle-income countries.
Infrastructure NEXT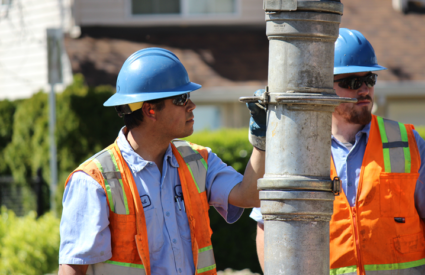 Millions of dollars sit at the ready to help low-income and rural U.S. communities build new infrastructure. But many of these communities don't have the capacity to go after these federal funds. Directed well, these infrastructure dollars could rapidly increase renewable energy generation and access, treat wastewater (still a problem in the U.S.), and provide climate-saving public transportation. The Willamette Partnership and Center for Sustainable Infrastructure will partner with low-income communities in the U.S. Pacific Northwest to develop sustainable, multi-purpose infrastructure projects for water, energy, transportation, and solid waste so they are better positioned to acquire these funds.
"The Infrastructure NEXT project has seen sustainable approaches to infrastructure create jobs and protect the environment across the Northwest. With Bridge Spark, we will be able to deepen that impact and expand to other communities to protect the environment, health, and a vibrant future" said Sara O'Brien, Executive Director of  the Willamette Partnership.
Photo: Clean Water Services
Automated Emissions Reduction (AER)
WattTime works to scale its leading software solution, which allows electricity-consuming devices to automatically opt for clean energy, thereby reducing greenhouse gas emissions and slashing air pollution.
"Our work is all about timing" said Katie Ryan, Deputy Director for WattTime. "We reveal cleaner and dirtier moments on energy grids around the world, and our AER software optimizes to make that energy use do good. As we work to drive massive reductions in carbon emissions worldwide, we know that the time for action has never been more important. That's why we are absolutely thrilled to have the support through the Bridge Spark Fund, whose investment in WattTime can help us make clean energy choice a global reality."
Diversifying Blue Livelihoods Through Holistic Ocean Farming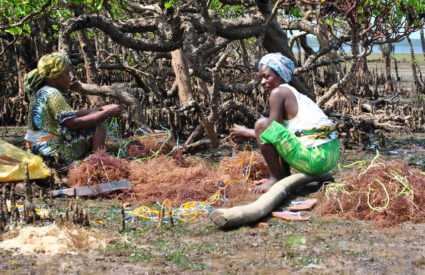 Aquaculture has been rapidly growing, but will it repeat the ills of historic farming and fishing practices, or chart a new course for sustainable and healthy food systems? The Blue Livelihoods team helped rural villages in Kenya and The Gambia aim firmly for the latter. Led by the Coastal Science and Policy program at the University of California, Santa Cruz and Sustainable Ocean Alliance, the team will adapt seaweed and other forms of aquaculture to local conditions, improving livelihoods and creating a path to a sustainable food system.
"The Bridge Spark Fund allows us to launch a youth-led international collaboration to empower coastal communities to engage in smallholder ocean farming," said Patrick Cage, project director. "We are excited to work with our partners KMFRI in Kenya and the GREAT Institute in the Gambia, who have essential technical expertise and community relationships to pilot this model."
Photo: Francis Okalo
Tropical Agroecology Toolkit
It is well-known that agroecology can improve soils, agricultural productivity, livelihoods and biodiversity. But can it go one further and improve human health? The University of Vermont and Health In Harmony worked with farmers in Madagascar to adopt agroforestry and forest restoration practices in ways that target these multiple benefits, including health.
"This project will allow our team to protect the health of the local communities while simultaneously protecting the health of the rainforest ecosystem. By meeting the needs of the communities, we relieve the stress on the forest and can begin to restore this high biodiversity rainforest," said Maggie McDow, Strategic Partnerships Manager for Health In Harmony. Project co-lead, Timothy Treuer from the University of Vermont, added, "What excites me is the range of connected issues our co-developed, community-based project will help address. That we can even aim for improvements across such a wide range of issues is a testament to the breadth and depth of the capacity of ecosystems to improve our lives."
Photo: Timothy Treuer
In addition, the Spark Fund recognized 51 semi-finalist teams. Each of these teams participated in a virtual "boot camp" training to help strengthen their solutions to deliver greater cross-sector impact and to consider scaling from the start of the project.
"Beyond the teams we engaged through this process, success with the Bridge Spark Fund is catalyzing greater action by civil society, governments, and funders to support integrated solutions benefiting people and planet," said Josh Goldstein, Director of the Bridge Collaborative. "The Sustainable Development Goals and the Paris Agreement set the targets for what needs to be done. By working together across sectors, we can deliver the pace and scale of change needed for a sustainable, prosperous, and just future for all."
About the Bridge Spark Fund
The Bridge Spark Fund is run by the Bridge Collaborative, a global change agent driving a fundamental shift in how we think, plan, fund and work across sectors to make bigger change faster. Founded in 2016 and winding up active work in 2022, the Collaborative was a partnership spearheaded by The Nature Conservancy, Duke University, the International Food Policy Research Institute, and PATH. We unite people and organizations from across the health, development and environment sectors with shared evidence and tools to make a greater impact at the speed the world needs now. Our global alliance of scientists, practitioners and organizations moved beyond business as usual with the aim of creating a more equitable and sustainable world.
Lyda Hill Philanthropies® encompasses the charitable giving of founder Lyda Hill and includes her foundation and personal philanthropy. As one of its priorities, Lyda Hill Philanthropies® funds transformational advances in science and nature. To learn more, please visit https://lydahillphilanthropies.org/.