October 15, 2020
12 Finalists Announced for Energy in Emerging Markets Case Competition as Part of Energy Week at Duke
Nicholas Institute for Environmental Policy Solutions
The finals of the 2020 Energy in Emerging Markets Case Competition will have an international flavor this year.
Twelve graduate student teams have been selected to compete virtually for $15,000 in prize money during the 8th annual competition, one of the signature events of Energy Week at Duke to be held Nov. 9–12. The competition is organized by the Duke MBA Energy Club and sponsored by the Energy Access Project at Duke.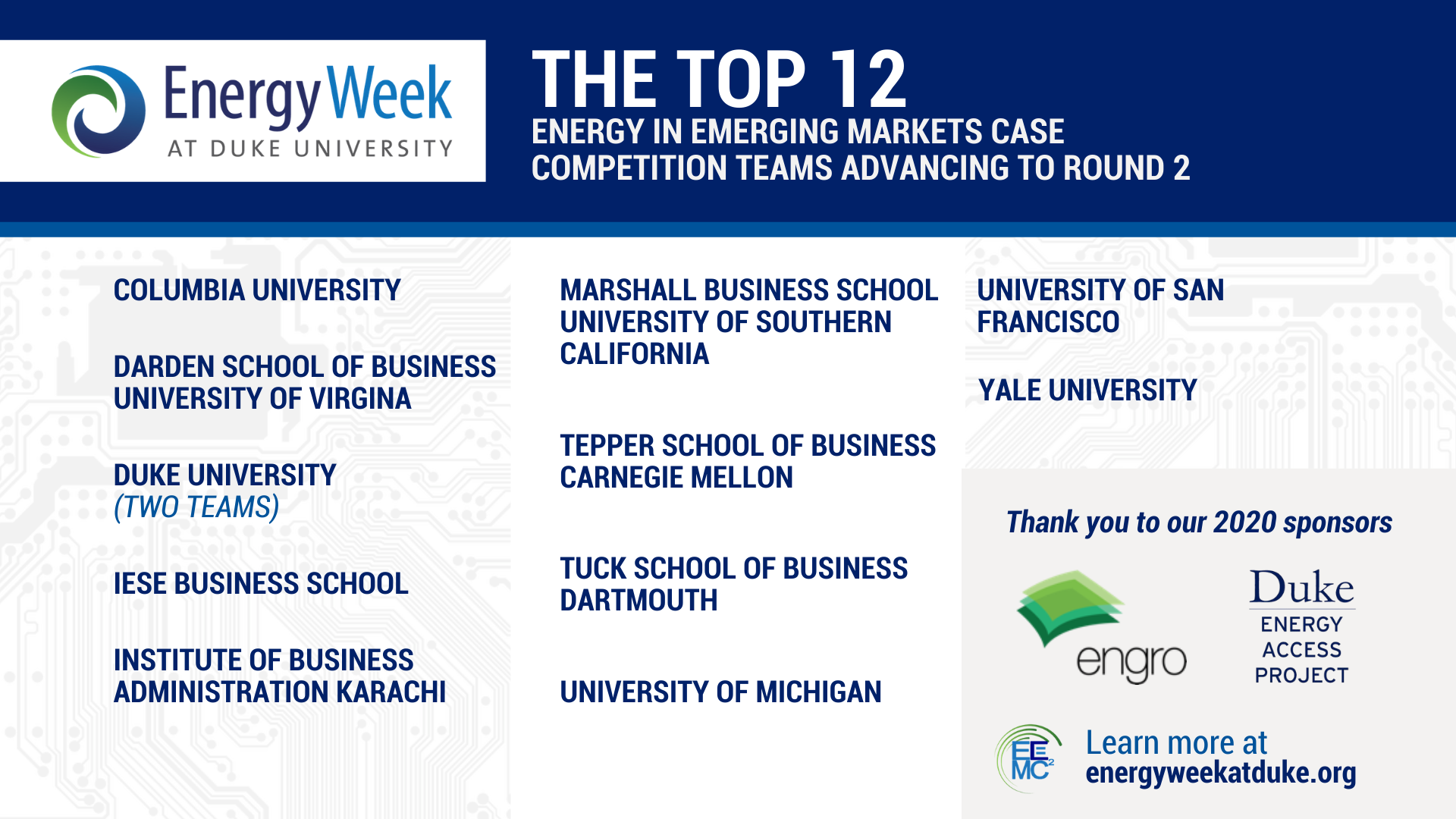 The finalists were selected by the organizers from a field of 70 teams across six countries, both records for the competition. The global representation will continue into the finals with students from Spain and Pakistan joining 10 teams from American universities.
"The world needs the next generation to step up with strong voices and fresh thinking for addressing energy poverty and climate change," said Jonathan Phillips, director of the Energy Access Project at Duke. "That's why I'm excited to see so many talented young people from around the world coming together to think critically about business approaches to addressing these related challenges."
The Energy in Emerging Markets Case Competition (EEMCC) engages diverse, creative teams of graduate students to address real energy challenges affecting the developing world. Students are encouraged to propose unconventional business-based solutions for an industry partner, exposing unrecognized opportunities with positive social and environmental impact.
This year's topic is "Scaling Renewables: A Cleaner Grid and Increased Access for Pakistan," featuring Engro Corporation as the case partner. As Pakistan's largest and most diverse business conglomerate, Engro is positioned to play a pivotal role in addressing Pakistan's energy challenges and can leverage operations across four business verticals—energy and infrastructure, petrochemicals, telecom, and fertilizers. Students will aim to develop a strategy for Engro to support the country's goals for expanded energy infrastructure and increased access.
"The power sector in Pakistan presents a unique set of challenges that need to be overcome to improve energy affordability and access, while transitioning to a cleaner grid," said Hassan Nadeem, co-chair of Duke EEMCC 2020. "Having participated in the previous version of the Duke Energy in Emerging Markets Case Competition, I witnessed firsthand how creative yet realistic proposals can have an impact on the case partners, and the markets they operate in. This year, we are excited to see how participants can help a major Pakistani conglomerate achieve the same"
With the competition happening virtually this year, each finalist will submit a video presentation by Oct. 25 detailing its solution to the case. A panel of judges will select the top five teams to move on to a closed question-and-answer session about their proposals on Nov. 9.
The winner and runners-up will be announced on Nov. 11 at 7 p.m. during the Power Hour event, a virtual networking reception for Duke alumni, students, faculty, and staff, as well as select special guests.
A team of four MBA students from the Haas School of Business at the University of California, Berkeley took home the top prize in the 2019 competition. The win was the second in a row for the Haas School, making it the first repeat winner in the competition's history. In another first for this competition in 2019, a Duke team landed on the winners' podium, finishing second overall.
While this year's competition will be closed to spectators, these virtual Energy Week at Duke events are open to all who register:
For more on the competition and other events during Energy Week at Duke, visit www.energyweekatduke.org.