January 21, 2021
Bonnie Joins Biden-Harris Administration in Climate Role at USDA
Nicholas Institute for Environmental Policy Solutions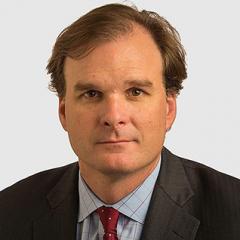 DURHAM, N.C. — The U.S. Department of Agriculture (USDA) announced Wednesday that Robert Bonnie will join the agency as its deputy chief of staff for policy and senior advisor on climate. Bonnie accepted his new job after working as an executive in residence for Duke University's Nicholas Institute for Environmental Policy Solutions since 2019.
"We are thrilled for Robert, and for the country," said Tim Profeta, director of the Nicholas Institute. "His clear-eyed assessment of what it will take to bring our rural lands into the fight against climate change helped hone our work at Duke toward workable solutions for all. We know he will bring that same wisdom to the country in his new post."
During his tenure with the Nicholas Institute, Bonnie's work focused on how to engage with rural America on environmental issues and climate change. A February 2020 report that he led found broad support among both rural and suburban/urban voters for conservation and environmental protection, but also revealed dividing lines between the two groups over federal regulation of the environment. In June 2020, he co-authored another report that outlined natural climate solution policy ideas aimed at investing in rural communities in a way that earns their political support.
Taken as a whole, the reports recognize America's farms, ranches and forests as vital sectors for addressing climate change. Agriculture accounts for 9 percent of U.S. greenhouse gas emissions, and forests sequester 11–15 percent of annual emissions.
More recently, Bonnie served on the steering committee for the Nicholas Institute-facilitated Climate 21 Project. The project tapped the expertise of more than 150 experts with high-level government experience to deliver actionable advice to the incoming Biden-Harris administration on a whole-of-government response to climate change. In the Climate 21 Project's USDA memo, Bonnie and his two co-authors made a series of recommendations for policy actions that the incoming leadership could take to maximize the agency's contributions to "an aggressive Administration-wide climate change mitigation and adaptation effort."
Bonnie was later tapped by the Biden-Harris transition team to lead the agency review of USDA.
Bonnie is a Duke alumnus who earned master's degrees in forestry and environmental management from the university. He joined the Nicholas Institute after a two-year Rubenstein Fellowship in which he led a pair of Bass Connections project teams—one that developed policy proposals to meet the goals of the Mid-Century Decarbonization plan and another aimed at improving the Endangered Species Act's implementation on private working lands.
His new position at USDA marks a return to the agency for Bonnie. From August 2013 to January 2017, he served as Undersecretary for Natural Resources and Environment, overseeing the U.S. Forest Service and the Natural Resources Conservation Service on a variety of natural resource issues. From April 2009 to July 2013, Bonnie was a senior advisor to Secretary of Agriculture Tom Vilsack for environment and climate change. President Joe Biden has nominated Vilsack to reprise that role in the new administration.