August 21, 2023
Duke Experts Help Drive Growth of Regional Climate Adaptation Network
Nicholas Institute for Environmental Policy Solutions
Duke University has renewed its commitment to a consortium that is providing actionable science to help Southeastern communities and ecosystems adapt to a changing climate.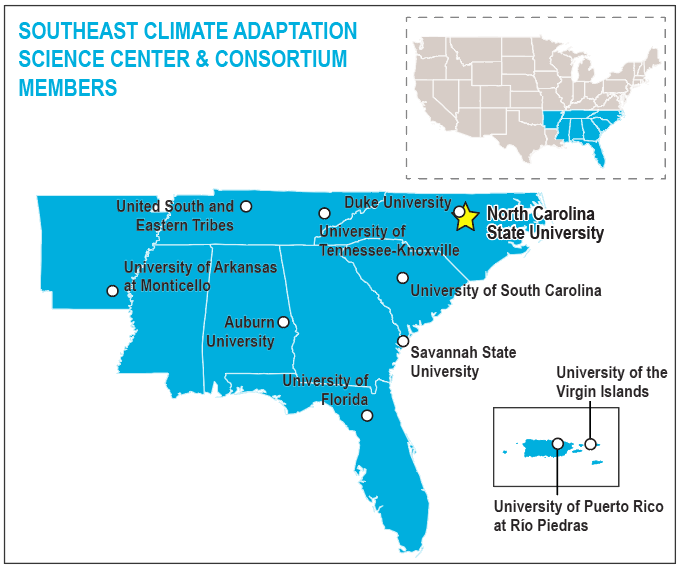 The U.S. Geological Survey (USGS) awarded a new cooperative agreement to North Carolina State University on Aug. 1 to continue hosting the Southeast Climate Adaptation Science Center (SE CASC) for the next five years. Duke is one of six returning members to the SE CASC consortium. The group also welcomes five new institutions with the signing of the agreement.
"Through the Southeast Climate Adaptation Science Center, Duke scholars have been partnering with colleagues across the region to co-produce analysis, maps, and resources to help resource managers and decision-makers," said Lydia Olander, director of the Ecosystem Services Program at the Nicholas Institute for Energy, Environment & Sustainability and an adjunct professor at the Nicholas School of the Environment. "We are looking forward to working with our new consortium partners to further address how nature can support climate adaptation needs throughout the Southeast."
Olander serves as one of Duke's co-principal investigators in the SE CASC, along with two faculty members from the Nicholas School of the Environment: Brad Murray, professor of geomorphology and coastal processes, and Ryan Emanuel, associate professor of hydrology.
Established in 2010, the SE CASC is part of a national network of nine regional centers, each based out of a host university with a consortium of university and non-university partners. After a first phase with NC State as the sole host, the Southeast center added Duke and four other universities as partners in 2017. In the ensuing years, the consortium has worked with USGS scientists and management partners to provide regionally relevant scientific information, tools and techniques to resource managers and communities within its footprint.
Duke projects developed over the last five years with support from the center include:
Duke's participation in the Southeast Climate Adaptation Science Center aligns with the goals of the Duke Climate Commitment, which unites the university's education, research, operations and external engagement missions to address climate challenges.
The 11 institutions that now comprise the SE CASC consortium are:
# # #
For additional information: