Nicholas Institute for Environmental Policy Solutions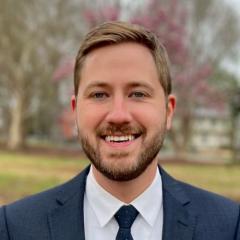 Tyler H. Norris
James B. Duke Fellow & Ph.D. Student, Nicholas School of the Environment
Tyler H. Norris is a Ph.D. student at Duke University's Nicholas School of the Environment, where his research focuses on electric power systems. He is an awardee of the university's James B. Duke Fellowship and serves in the research group of Dr. Dalia Patino-Echeverri, Gendell Associate Professor of Energy Systems and Public Policy.
Norris brings over a decade of energy sector experience to his research. Most recently, he served as vice-president of development at Cypress Creek Renewables, a leading US independent renewable power producer. In addition to overseeing a multi-gigawatt portfolio of development-stage projects, in this capacity he regularly directed electricity simulation studies for use in regulatory proceedings. Previously, he served as a director at S&P Global Platts, an international energy consultancy, where he developed power market forecasts for electric utilities and integrated majors. Prior to S&P, he was a special advisor at the US Department of Energy, where he designed technology commercialization programs.
Norris has served as an expert witness in multiple state utility commission proceedings, including North Carolina's inaugural Carbon Plan proceeding. In 2020 he was appointed to Gov. Cooper's Carbon Policy Working Group, which advised the Nicholas Institute's report Power Sector Carbon Reduction: An Evaluation of Policies for North Carolina. In 2019 he was awarded "Clean Energy Leader of the Year" by the NC Sustainable Energy Association, and in 2023 was named to BusinessNC's annual "Power List" for energy.
Norris currently serves as chair of the board of the NC Clean Energy Fund and was previously elected vice chair of the Carolinas Clean Energy Business Association and co-chair of the Clean Power Suppliers Association. His writing has appeared in the New York Times, Foreign Affairs, Harvard Law & Policy Review, and elsewhere. He is recipient of the Harry S. Truman Scholarship and Forbes 30 Under 30, received his B.A. in public policy from Stanford University, and graduated from the NC School of Science & Mathematics.