Key Publications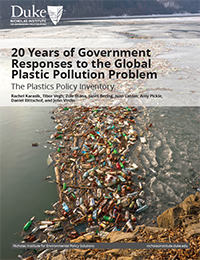 Plastic pollution in the ocean is a global problem that requires cooperation from a wide range of groups (e.g., governments, producers, consumers, researchers, civil society). However, by virtue of their core regulatory powers, governments have a critical role to play in helping to solve this problem. This study aims to synthesize the policy response of governments to the global plastic pollution problem, as a basis for more rigorous monitoring of progress (as called for in Resolution 4/6 of the 2019 United Nations Environment Assembly (UNEA) meeting) and to inform future public policies.
In 2020, the Plastics Policy Inventory and accompanying report, 20 Years of Government Responses to the Global Plastic Pollution Problem, were published, providing a baseline for the trends in government responses to the plastic pollution problem, as well as highlighting some gaps. Since that time, momentum has grown toward negotiation of an international agreement as a collective response to the problem, even as governments and resources have been strained by the ongoing coronavirus pandemic. This first brief builds upon the 2020 report and baseline by adding new data on national policy responses to plastic pollution from 2020 and 2021. Assessment of the more up-to-date policy inventory suggests that the twenty-year trend of an increase in the number of national policies introduced to reduce plastic pollution has stalled. While additional data on national policies may subsequently become available to revise these estimates, if confirmed they would suggest a pause in government responses to the problem, coinciding with the pandemic (though we cannot show causality). Our goal is for this brief to be the first in a regular series of annual updates on the trends in government responses to the global plastic pollution problem.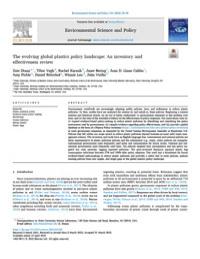 Governments worldwide are increasingly adopting public policies, laws, and ordinances to reduce plastic pollution. To date, studies have not analyzed the content of, and trends in, these policies. Employing a content analysis and literature search, we set out to better understand: (i) governments responses to this problem over time, and (ii) the state of the available evidence on the effectiveness of policy responses. Our motivations were to: (i) expand evidence-based policy-making to reduce plastic pollution by identifying and classifying the policy instruments used by governments; (ii) compile evidence regarding policy effectiveness; and (iii) provide a global database in the form of a Plastics Policy Inventory (https://nicholasinstitute.duke.edu/plastics-policy-inventory) to track government responses, as requested by the United Nations Environment Assembly in Resolution 4/6. Policies that fell within our scope aimed to reduce plastic pollution beyond business-as-usual solid waste management schema. This Inventory and study have an English-language bias. International and national policies are fairly representative of plastic pollution policies and the subnational (e.g., states, cities) policies are examples. International governments most frequently used plans and commitments for future action. National and subnational governments most frequently used bans. Ten policies targeted only microplastics and one policy targeted tire wear particles, lagging reported pollution. The peer-reviewed literature reported plastic bag consumption reductions between 27% and 100% after policy adoption. This work lays a foundation for future evidence-based policymaking to reduce plastic pollution and provides a useful tool to track policies, analyze existing policies from new angles, and target gaps in the global plastics policy landscape.
Guidance and Methods
Building upon the above work, a research team from Duke Kunshan University, in China, adapted the methods used in the 2020 report to conduct a deeper dive of plastics policy documents at the national and subnational level in China (publication forthcoming). This brief aims to summarize the methods used in both the Global and China assessments and is written for researchers at any level to replicate these methods and tailor them for their country or countries of interest.
Plastics Policy Country Profiles
Infographics