This Bridge Spark Champion is working with experts from different sectors to understand whether mangrove conservation can simultaneously mitigate climate change, improve food and nutrition security, and protect one of the world's most important marine ecosystems.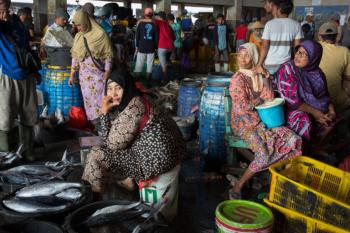 Connecting the Dots: Mangroves and Food Security
In a rural village in East Kalimantan, Indonesia, a chalkboard chart sprawls across the wall of a health clinic. The column titles include 'head measurement' and 'child weight'. The government has deployed this kind of chart in villages across Indonesia to help health workers track and measure child stunting and wasting caused by malnutrition.
The link between a child's head size and the health of nearby mangrove forests may seem tenuous – but these biologically-rich fish breeding grounds could be an important factor influencing children's nutritional status.
This village in East Kalimantan is one that regularly engages with the Indonesia program of The Nature Conservancy, which is partnering with local communities on mangrove conservation and restoration projects. Food and nutrition security are key challenges in Indonesia – a place where wild capture fishing is important to the local economy, as well as the staple diet. Ironically, however, one of the main drivers of mangrove destruction is the creation of shrimp aquaculture farms — which also contributes, for some, to food security and jobs, and contributes significantly to Indonesia's economy.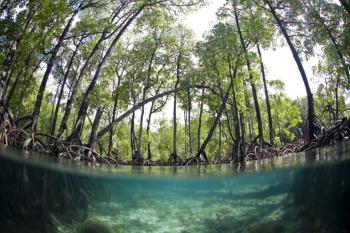 Indonesia is home to one-fifth of the world's mangroves, and the country contains more mangrove forest than any other country on Earth. East Kalimantan has large swathes of intact and healthy mangrove forest, though much of it under threat of conversion to shrimp ponds.
In a world where there are always trade-offs, and the most critical problems know no boundaries, seeking opportunities for collaborative action has never been more urgent. In Indonesia, no single person or organization has all the information necessary to develop solutions that simultaneously address mangrove conservation, climate change, local livelihoods, and food and nutrition security. This is why in 2017, the Bridge Collaborative awarded Megan Kelso a grant to bring experts together from the health, development, and environment communities to work together on this complex problem.
The People's Choice
Megan Kelso is a NatureNet Postdoctoral Fellow through The Nature Conservancy and the University of California, Los Angeles. Her research is looking at the potential of mangrove conservation to simultaneously mitigate climate change and improve food and nutrition security in Indonesia. To do this, she is comparing the benefits from intact mangroves to those from areas where mangroves have been converted to shrimp aquaculture ponds.
It is a process that first and foremost requires participation from multiple sectors and collaborators — not only for access to data and expertise, but also to ensure the research addresses the right issues and will be actionable for decision-makers.
Megan pitched this project at the Bridge Collaborative's inaugural Spark Challenge in London in 2017, where she won the People's Choice award. Within just a few months of receiving this catalyst grant, Megan found herself having tea with shrimp farmers in a stilted house in Berau, East Kalimantan. A couple days later, she co-led a workshop in Tanjung Redeb, East Kalimantan, in collaboration with the Bridge Collaborative's Christine Jacobs, The Nature Conservancy's Indonesia program, and the government Development Agency of Berau.
Beyond the Comfort Zone
The workshop brought together 20 experts from local government and NGOs across the diverse fields of fisheries, environment, and health. While many of the experts from the environment and fisheries departments had attended events together before, they had never been joined by representatives from the health sector, despite all working in the same region.
The eclectic guest list set the tone for a workshop that would end up pushing everyone beyond their comfort zones, and spark new insights that kept the workshop facilitators on their toes, rapidly adapting the agenda to incorporate cross-sector insights and questions as they arose.
The two-day workshop was designed using the Bridge Collaborative's Practitioner's Guide, a document that sets out principles and guidance for cross-sector action planning and evidence evaluation. This approach was used to explore the following topics:
the community context and needs across health, nutrition, livelihoods, the environment and climate change;
the social, economic, and environmental context regarding mangroves in comparison to aquaculture; and
where cross-sector evidence is strongest in this system and where there are gaps to best inform future actions.
"The workshop was really hands-on," says Christine. "During one of the games, Megan and a government official tripped over each other and landed in a tangled heap on the floor — everyone was in tears laughing."
Alongside pushing workshop norms for the participants, the way the sessions were facilitated ended up challenging cultural gender norms too.
"Women are key in sustainable mangrove management and livelihoods development in Berau," says Ade Rachmi Yuliantri, Climate Resilience Manager for TNC Indonesia. "Gender was a hot issue in focus group discussions — it's still not thought of as a woman's right to be able to decide her future in the village."
"Through much of the workshop, we had participants break into small groups and answer a list of questions," says Christine. "To report back, we asked them to visually represent what they had discussed. I noticed that during the group conversation, some women would not speak up, but when it came to drawing, they took charge. Drawing and writing allowed them to have their opinions and ideas heard in a way that dialogue did not."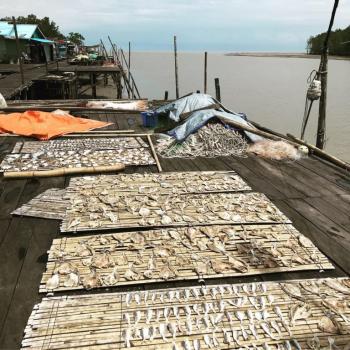 The workshop also unexpectedly opened up discussions about the role of women in addressing nutrition and conservation challenges. "By the end of day one, by simply asking 'who benefits from aquaculture?' or 'who does most of the fishing?' or more pointedly 'what do women do?' — gender organically became a focal part of the conversation," says Christine. "While it was always present in the discussion, we modified our agenda for day two to focus explicitly on mangrove conservation, food security AND gender."
These insightful discussions not only expanded participants' perspectives, but also started reshaping Megan's research focus.
What Next?
During the field trip and the workshop, it became clear that there needs to be a much broader set of benefits considered. As a result, Megan has expanded her research question, looking beyond the impact of mangrove conservation on nutrition and carbon to now include storm protection, jobs, income, erosion control, and gender.
In Indonesia, the workshop participants are collaborating on a report detailing the links between mangrove forests and different sectors, as well as exploring new ways to circulate information. "The workshop opened up new connections" says Ade, "not just for TNC Indonesia, but for all the participants. They are now working on establishing an information database to enable them to share relevant data from their fields."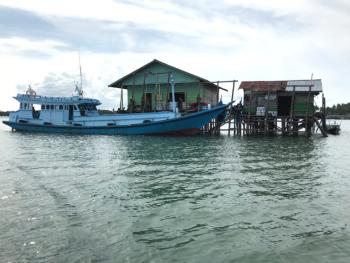 Megan hopes her research can help strengthen these new working relationships, supporting more sustainable, inclusive development in Berau. "Going to Indonesia, meeting the team, and bouncing my research idea off of all the people at the workshop was so valuable," she says. "I wouldn't have gotten there that soon without funds and support provided by the Bridge Spark grant, nor would I have had the capacity to design and facilitate this kind of exploratory workshop. This experience has helped me re-shape my research, making it more grounded in and responsive to the issues here. It's opened up the conversation to include new perspectives, which could lead to important collaborations."
Banner image credit: Kevin Arnold