Today's global challenges are massive, and affect the planet and people's lives with equal impact. We need to move beyond the myopic view that we can solve global challenges one sector at a time. Yet, few organizations are equipped to do the needed cross-sector work, and only a few progressive funders are supporting it. We seek to change that, and launched the Bridge Spark Fund as a catalyst to empower teams and demonstrate what's possible through solutions that deliver cross-sector impact.
2020 Winners
In September 2019, we launched the Bridge Spark Fund—a funding opportunity to expand the pipeline of integrated solutions ready to address today's most pressing global challenges. We granted four US$150,000 awards to advance testing of solutions that benefit people and nature across three challenge areas: transforming the global food system for health and sustainability, improving sanitation and wastewater management, and accelerating a low-carbon, clean air and environmentally-friendly energy future for all.
The winning teams are profiled below, and the fund also recognized 51 semi-finalist teams. For more information on the competition, see the original Request for Proposals.
Bridge Spark Fund Judges
The semi-finalist teams were invited to submit full proposals, which were reviewed by a panel of external judges, including funders and subject-matter experts.
Judges for U.S. Impact Proposals
Dana Bourland, VP Environment, JPB Foundation
Chad English, Science Program Officer, David & Lucile Packard Foundation
David Fleming, VP Global Health Programs, PATH
Lisa Graumlich, Dean, College of Environment, University of Washington
Jan Mazurek, Director, Carbon Dioxide Removal Fund, ClimateWorks Foundation
LaKisha Odom, Scientific Program Director, Foundation for Food and Agriculture Research
Alonzo Plough, VP Research-Evaluation-Learning & Chief Science Officer, Robert Wood Johnson Foundation
Timothy Profeta, Faculty Fellow & Founding Director, Nicholas Institute, Duke University
Judges for Low- and Middle-Income Country Impact Proposals
Ruchi Badola, Senior Professor, Wildlife Institute of India
Patricia Balvanera, Professor, Universidad Nacional Autónoma de México
Karen Levy, Associate Professor, Emory University
Steve McCormick, Managing Director, Draper Richards Kaplan Foundation
Mark Sanderson, Managing Program Director, Margaret A. Cargill Philanthropies
Jolyne Sanjak, Senior Associate, Tetra Tech
Sara Scherr, President & CEO, EcoAgriculture Partners
Stanley Wood, Senior Program Officer, Bill & Melinda Gates Foundation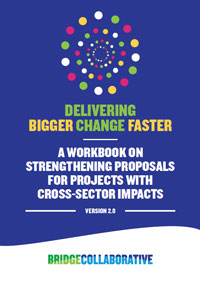 While we know that cross-sector thinking is essential, it is not commonplace. Delivering Bigger Change Faster: A Workbook on Strengthening Proposals for Projects With Cross-sector Impacts, Version 2.0 is a resource for teams that are fairly new to cross-sector thinking but already have a proposal for creating multi-sector impacts. The first version of this workbook was developed and tested with 50 Bridge Spark applicant teams as part of a one month coaching process, and the current version incorporates our lessons on best practices.
Training Videos
Expanding Beyond Single-Sector Impact  
Bridge Spark Awards
In 2017 and 2018, the Bridge Collaborative ran two Bridge Spark Challenge competitions to seed new ideas for cross-sector impact with $10,000 catalyst grants. The positive outcomes from the eight winning teams and our experiences working with them informed the evolution of the Bridge Spark Fund.