February 26, 2020
Nicholas Institute Welcomes DKU's Fürst as Faculty Affiliate
Nicholas Institute for Environmental Policy Solutions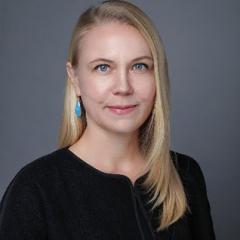 The Nicholas Institute for Environmental Policy Solutions at Duke University is pleased to announce Kathinka Fürst as a new faculty affiliate. Fürst holds a dual appointment as assistant adjunct professor of environmental policy at Duke Kunshan University (DKU) and serves as associate director of DKU's Environmental Research Center.
"I am very excited to join the team of distinguished researchers and practitioners at the Nicholas Institute," Fürst said. "I look forward to building more bridges between the Institute and the Environmental Program at Duke Kunshan University."
Fürst's work focuses on environmental regulation and justice in China. She brings that research lens to collaborations with Nicholas Institute professionals on areas of shared interest. Her projects working in partnership with the Nicholas Institute include:
Analyzing China's national and sub-national regulatory plastic frameworks as part of a broader effort to evaluate policies for reducing oceanic plastic pollution
Exploring the roles of Chinese NGOs in attempting to shape a green Belt and Road Initiative
Becoming part of the founding team of the

High Seas at Duke

consortium
Prior to joining Duke Kunshan University, Fürst gained extensive experience in interdisciplinary research through her work as an administrative coordinator for the Sino-Norwegian Center for Interdisciplinary Environmental Research and as a research fellow at the Social Science Research Council's China Environment and Health Initiative. She has also worked as a consultant on program management and evaluation focusing on environmental governance projects in China.
"Kathinka is an invaluable partner in building collaboration between the Nicholas Institute and the Environmental Research Center at Duke Kunshan," said Jackson Ewing, a Nicholas Institute senior fellow who works closely with the DKU Environmental Research Center and International Masters of Environmental Policy programs to build policy research collaboration in the United States and China. "Her breadth of knowledge, networks and experience across environmental policy issues in China is inspiring and, for us at the Institute, exceedingly useful. Her new appointment is a step toward our partnership deepening even further."