Energy Pathways USA will accelerate progress toward a net-zero carbon future by developing workable solutions with public- and private-sector partners across multiple key industries.
Initiated at a time of high expectations for US federal leadership on climate change, Energy Pathways USA is building a community of firms and thought leaders from key sectors to develop solutions advancing a net-zero US economy.
Energy Pathways USA brings these experts and practitioners together to analyze current and proposed federal, state, and regional policies for decarbonization. The project explores a broad range of potential impacts from these policies, including how they may affect the distribution of emissions reductions, costs, technology choices, and consumer behavior. By advancing cross-sectoral dialogue based on robust policy, technology, and modeling analyses, Energy Pathways USA seeks to develop workable pathways to accelerate an equitable energy transition in the United States.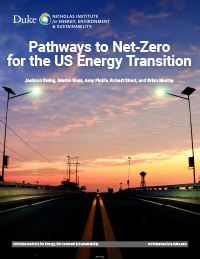 A November 2022 report sets the stage for the project. "Pathways to Net-Zero for the US Energy Transition" examines the trendlines, challenges, and opportunities for meeting the US net-zero objective—and outlines the work ahead for Energy Pathways USA.
Energy Pathways USA is convened by the Nicholas Institute for Energy, Environment & Sustainability at Duke University with additional support from the Center for Energy, Development, and the Global Environment at Duke's Fuqua School of Business.
Initial collaborators include ADM, AVANGRID, Bank of America, bp, Duke Energy, FedEx, GE, General Motors, Modern Energy, National Grid, Ørsted, RMI, Shell, Volvo Group, and the World Resources Institute.
The Nicholas Institute brings an established track record to Energy Pathways USA of working with policymakers to craft timely, effective, and practical solutions to environmental and energy challenges.
Energy Pathways USA works in collaboration with the Energy Transitions Commission as an autonomous regional initiative of that global effort.
Value Proposition
An analytically rigorous, pragmatically focused research program
Goes beyond outlining basic principles and optimistic net-zero scenarios for the US by mid-century
Probes the technical and economic feasibility of decarbonization in major sectors
Identifies major opportunities, leverage points, and barriers to achieving net-zero goals
Leverages the experience, insights and capabilities of both business and research communities
Brings analytical depth and cross-disciplinary breadth
Taps into the cross-sector expertise and real-world experience of top global and US companies and expert stakeholders
Action-focused and externally engaged
Provides a forum for cross-sector collaboration to spur actionable policies, projects, and investments needed for energy transition
Mobilizes the deep networks of Duke University and Energy Pathways USA members for outreach to federal and state policymakers
Integrates international market and supply chain analysis with challenges and opportunities unique to decarbonizing the US economy
Questions? Interested in Membership?