Energy Pathways USA will accelerate progress toward a net-zero carbon future by developing workable solutions with corporate partners across multiple key industries.
Initiated at a time of high expectations for US federal leadership on climate change, Energy Pathways USA is building a community of firms and thought leaders from key sectors aligned around a durable solution set to achieving a net-zero U.S. economy.
Energy Pathways USA brings these experts together to explore and analyze current and proposed federal, state, and regional policy incentives for decarbonization. The project will also explore the broad range of potential policy impacts, including on the distribution of emissions reductions, costs, technology, and consumer behavior. By advancing cross-sectoral dialogue based on robust policy, technology, and modeling analyses, this partnership aims to develop workable pathways to accelerate an equitable energy transition.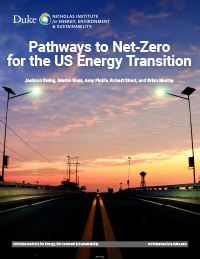 A November 2022 report sets the stage for the project. "Pathways to Net-Zero for the US Energy Transition" examines the trendlines, challenges, and opportunities for meeting the US net-zero objective—and outlines the work ahead for Energy Pathways USA.
Convened by the Nicholas Institute for Energy, Environment & Sustainability at Duke University and the Center for Energy, Development, and the Global Environment at Duke's Fuqua School of Business, Energy Pathways USA will build on the breadth of existing research and analysis undertaken on the U.S. context to the target of achieving net-zero emissions by mid-century.
Initial collaborators have included ADM, AVANGRID, Bank of America, bp, Duke Energy, FedEx, GE, General Motors, Modern Energy, National Grid, Ørsted, RMI, Shell, Volvo Group, and World Resources Institute.
The Nicholas Institute brings its own established track record to Energy Pathways USA of working with policy makers to craft timely, effective, and practical solutions to environmental and energy challenges.
Energy Pathways USA works in collaboration with the Energy Transitions Commission as an autonomous regional initiative of that global effort.