Publications
China, Japan, and the Republic of Korea are emerging as major players in the global carbon trading landscape. As Northeast Asia's biggest industrial economies, these three countries are connected through deep commercial and trade ties, and shared environmental challenges. There are thus growing calls for these markets to manage differences to build a foundation for more extensive carbon market cooperation. This Asia Society Policy Institute report draws on the expertise of a wide range of scholars and practitioners to help equip policymakers and other stakeholders with information and guidance on the potential of and pathway toward carbon market linkage in Northeast Asia. This volume includes 11 chapters that examine the challenges of and approaches to carbon market cooperation and linkage in Northeast Asia.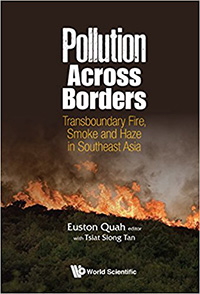 Indonesia and its neighbors have recently experienced the worst transboundary haze episodes in their history, according to the book Pollution Across Borders: Transboundary Fire, Smoke and Haze in Southeast Asia. The chapter "Indonesia's Uphill Battle Against Dangerous Land Clearance" explains the three major factors in these haze episodes: the palm oil and pulp and paper sectors, changing weather patterns, and policies that are not keeping up with business and environmental forces, preventing them from appreciably changing short-term conditions in Indonesian plantations. 
The expansion of carbon markets in China, Japan, and the Republic of Korea have laid the foundation for discussions on potential carbon market cooperation within Northeast Asia, and the role of the private sector is vital for achieving success in this space, according to a new Asia Society Policy Institute and KPMG Samjong report. The authors present how carbon market linkage within China, Japan, and Korea could take place in unison with industry preferences.