Background
Marine plastic pollution is a growing concern due to the vast quantities of plastic pollution that enter the ocean or rivers that flow into the ocean. Even with immediate, global action toward creating a circular economy, an estimated 710 million metric tons of plastic waste will enter aquatic and terrestrial environments by 20401. As such, there has been a push to reduce or remove marine plastic pollution. For instance, in 2016 the United Nations Environment Assembly stated that that member states should "cooperate regionally and internationally on clean-up actions of such hotspots where appropriate and develop environmentally sound systems and methods for such removal and sound disposal of marine litter" in Resolution 2/112. Along with these government and regional policy efforts, inventors worldwide have created technologies that prevent plastic waste from entering the environment or collect existing marine plastic pollution.
About the Plastic Pollution Prevention and Collection Technology Inventory
The Plastic Pollution Prevention and Collection Technology Inventory was created to aid local governments, nongovernmental organizations, and other stakeholders in identifying technologies that may help to remediate hotspots of marine plastic pollution.
The inventory contains 52 technologies that were developed as of July 20, 2020 to either 1) prevent plastic pollution from entering the environment or 2) collect existing marine plastic pollution. Technologies in the inventory can be searched based on the remediation strategy (i.e., prevention or collection), plastic type (i.e., macroplastics, microplastics or both macroplastics and microplastics), or inventory category (e.g., laundry balls; boats and wheels). Additional metadata available include a brief description of the technology, use status, location invented, and relevant sources. This inventory can be updated using our systematic search methodology. We hope that this inventory can serve as a tool for interested stakeholders to search, identify, and evaluate the technologies available to prevent plastic pollution from leaking into the marine environment or collect existing plastic pollution.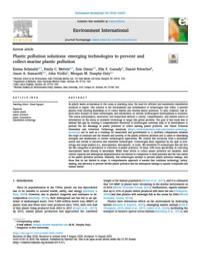 As plastic waste accumulates in the ocean at alarming rates, the need for efficient and sustainable remediation solutions is urgent. One solution is the development and mobilization of technologies that either 1) prevent plastics from entering waterways or 2) collect marine and riverine plastic pollution. To date, however, few reports have focused on these technologies, and information on various technological developments is scattered. This leaves policymakers, innovators, and researchers without a central, comprehensive, and reliable source of information on the status of available technology to target this global problem. The goal of this study was to address this gap by creating a comprehensive inventory of technologies currently used or in development to prevent the leakage of plastic pollution or collect existing plastic pollution.
Contact Us
If you have questions, feedback, or additional technologies to add to this inventory, please email Zoie Diana (zoie.diana@duke.edu).
---
1. Lau, W.W.Y., Shiran, Y., Bailey, R.M., Cook, E., Stuchtey, M.R., Koskella, J., Velis, C.A., Godfrey, L., Boucher, J., Murphy, M.B., Thompson, R.C., Jankowska, E., Castillo, A.C., Pilditch, T.D., Dixon, B., Koerselman, L., Kosior, E., Favoino, E., Gutberlet, J., Baulch, S., Atreya, M.E., Fischer, D., He, K.K., Petit, M.M., Sumaila, U.R., Neil, E., Bernhofen, M.V., Lawrence, K., Palardy, J.E., 2020. Evaluating scenarios toward zero plastic pollution. Science. https://doi.org/10.1126/science.aba9475
2. Resolution 2/11 Marine plastic litter and microplastics, United Nations Environment Assembly (2016). https://nicholasinstitute.duke.edu/plastics-policies/unea-resolution-211-marine-plastic-litter-and-microplastics.