For each tier 1 and 2 project-scale metric we are developing protocols that describe approaches for collecting monitoring data. Each protocol is broken down into two main parts:
The "how much" methods: description of methods to quantify the metric and track how it is changing based on installation of a coastal project
The "who" methods: description of methods that provide information on who has access to the outcome the metric is measuring and whether that access is representative of the project service area
Each metric protocol is summarized in an overview document that includes links to further detail on each suggested method. The following chart describes how measurement protocols are organized (click for large version):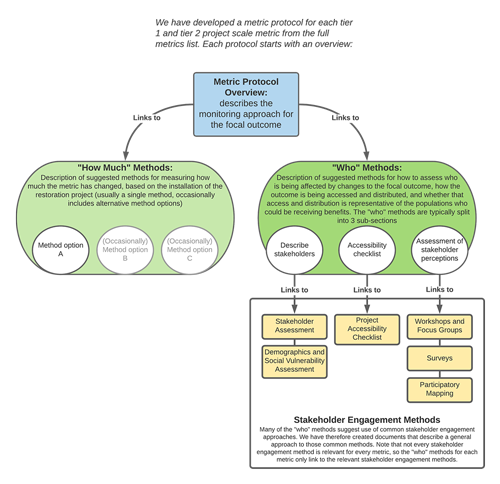 Developing measurement protocols for program-scale metrics was not within the scope of this project, but we explain how these types of metrics might be measured in the future.
Many of the stakeholder engagement methods are generalizable across protocols. The following table links to those method descriptions:
| Link | Stakeholder Engagement Method |
| --- | --- |
| | Community Demographics |
| | Participatory Mapping |
| | Project Checklist |
| | Stakeholder Assessment |
| | Survey Adjustments |
| | Workshops and Focus Groups |
Protocols
All available protocol overview documents will be found below, and in the full metrics list.