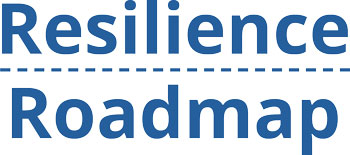 Our vulnerability to the stresses and shocks of climate change threatens U.S. food, energy, water, transportation, and health security, imperiling our economy and our very well-being as a nation. With renewed commitment from the Biden-Harris Administration to tackle the climate crisis, the United States has an unprecedented opportunity to mobilize the American people with new jobs and lasting economic growth fueled by a national effort to build greater climate resilience.
The Resilience Roadmap project seeks to offer actionable recommendations to inform the Administration's national resilience agenda. Leading resilience experts from states, local and Tribal communities, civil society, academia, and the private sector, many of whom formerly worked in the federal government and on the frontlines of the climate change battle, have volunteered their time and knowledge for this vital national effort.
The Resilience Roadmap is a non-partisan, independent project hosted by the Duke University Nicholas Institute for Environmental Policy Solutions and Susan Bell & Associates. The project is possible because of the generous support of Lyda Hill Philanthropies and the Walton Family Foundation. Their support for the project does not constitute or imply endorsement of the Resilience Roadmap.
Principles
The Resilience Roadmap is guided by three overarching principles that frame our recommendations and are important for all resilience efforts:
Central to a comprehensive, climate change strategy, resilience-building can and should deliver tangible, on-the-ground benefits: creating jobs, safeguarding public health and safety, stewarding natural resources, protecting and revitalizing our economy, investing in long-term restorative solutions, and reducing property risks.
Resilience-building efforts must prioritize vulnerable communities, especially those marginalized by structural targeting and historical divestment. These efforts should recognize that impacts from the stresses and shocks of climate change act as a threat multiplier, falling most heavily on marginalized people and communities, often those that already suffer disproportionately from economic, social, racial, and environmental inequities.
Resilience building requires a vertically integrated, "whole-of-government" approach, fostering alignment (including coordination of programs, information, and funding) among federal government agencies, states, local communities, Tribal Peoples, and regional entities, as well as with community groups, civil society, and the private sector.
Policy Brief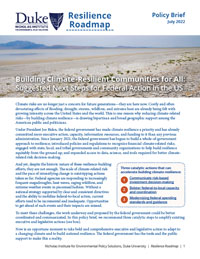 Under President Biden, the federal government has made climate resilience a priority and has already committed more executive action, capacity, information resources, and funding to it than any previous administration. And yet, these historic efforts are not enough as the effects of climate change grow more intense across the United States and the world. This policy brief follows up on Resilience Roadmap's original recommendations to suggest three catalytic steps for amplifying existing executive and legislative resilience-building actions.
Questions
For questions about the Resilience Roadmap, email resilienceroadmap@duke.edu.